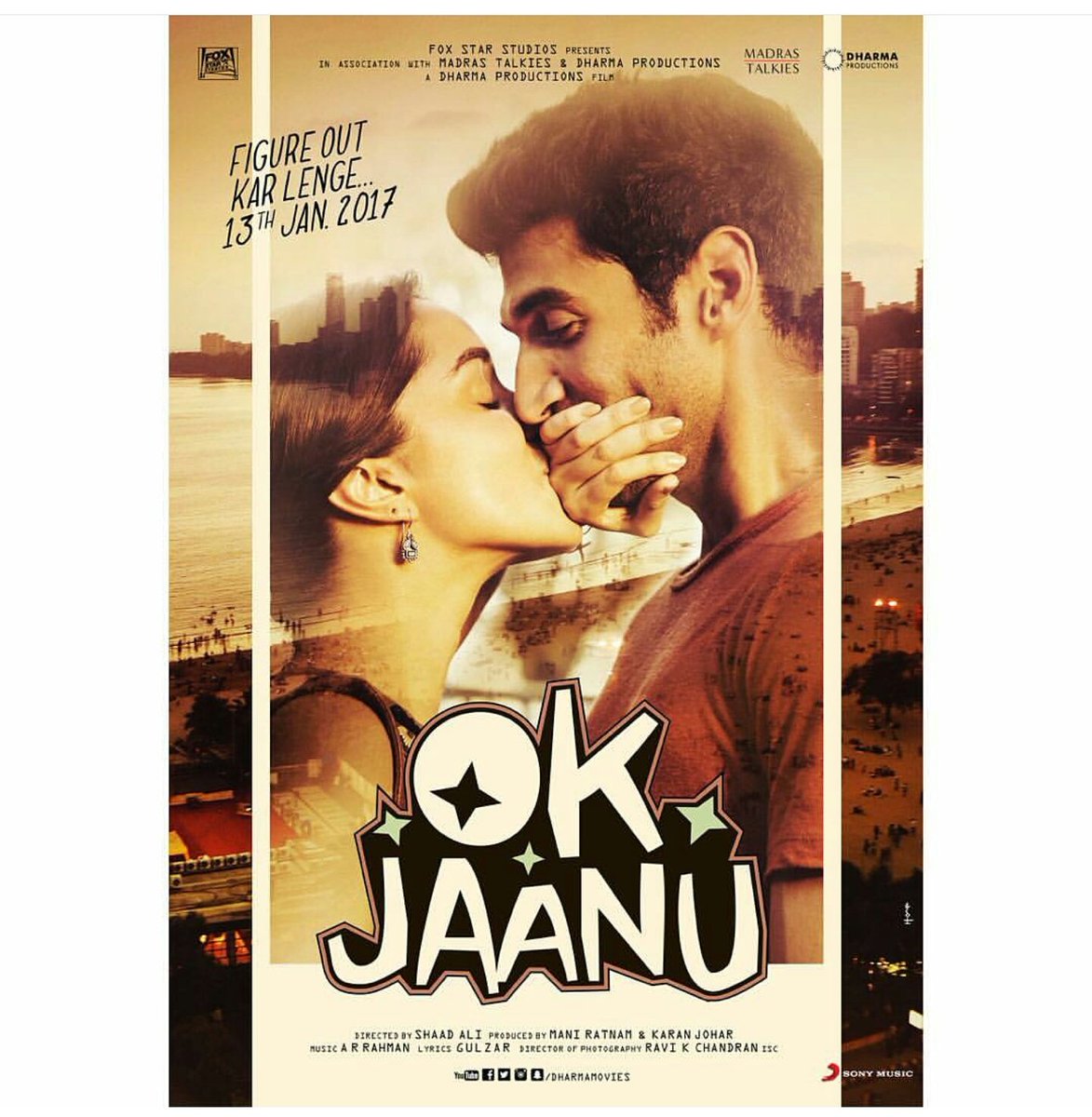 Director: Shaad Ali
Music: AR Rahman
Lyrics/Dialogue:  Gulzar
Cast: Aditya Roy Kapur, Shraddha Kapoor, Naseeruddin Shah
Stars: 3***
Director Shaad Ali has assisted Mani Ratnam for many years now and remade his Tamil hit as Saathiyaan. Shaad absorbs Mani Ratnam's sensibility and lends it his own madness which was apparent in Saathiyaan and now even more strongly in Ok Jaanu.
On the surface OK Jaanu is a frothy romance but beneath the cheer and the banter, the recklessness and the madness, is a serious issue that the lovers need to confront.
Unlike other romances on screen which usually blossom in scenic gardens or in the Alps, Adi and Tara glance at each other for the first time at Mumbai Railway Station but before they can blink they are lost in the crowd. They meet again at a friend's church wedding and exchange numbers. A few days later, they meet again for a coffee date and we all know that a lot happens over coffee, so Tara moves into Adi's room.
Both are professionals and have a career plan. Tara is an architect and has to leave for Paris and Adi is a game designer scheduled to leave for the apple city to become a millionaire. They are committed to each other but not for marriage.
While it is true that there is nothing new about romance it is also true that Mani Ratnam films have always portrayed a  new shade of love so if Roja was about patriotism, Bombay about religion, Dil Se about terrorism, Yuva about awareness and Saathiyaan about commitment, OK Jaanu confronts the young generation to choose between love and career.
It is not what you express in love; it is how you express that makes the love story palatable and Mani Ratnam's O Kadhal Kanmani and Shaad Ali's Ok Jaanu travels you to common spaces like markets, temples, offices and cafeterias via public transport- sometimes buses, trains and taxis which is interesting.
The minus: is the romance becomes repetitive after a point and there are no surprises in the second half.
The plus: is Gulzar's refreshing dialogues, AR Rahman's music, Naseeruddin Shah- Leela Samson pairing and Aditya -Shraddha Kapoor chemistry.
There are 50 shades of love and Ok Jaanu is one of them, it is sensitive, realistic and relevant. If you are  in love and unable to resolve your conflict between marriage and career, this film is for you.
Follow me on Facebook, Twitter and Instagram  @bhawanasomaaya