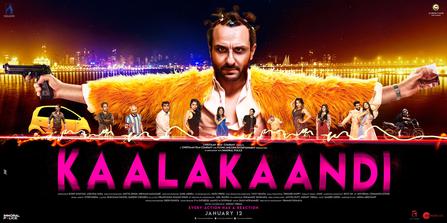 Film: Kaalakandi
Date: 12 January 2017
Writer/Director: Akshat Verma
Producer: Rohit Khattar, Ashi Dua Sara
Story: Devesh Kapoor
Cast: Saif Ali Khan, Akshay Oberoi, Deepak Dobriyal, Vijay Raaz
In 2011 Akshat Verma wrote a film for Aamir Khan Productions that became a trendsetter, Delhi Belly.
This time, Akshat turns director and tells you the story of many characters travelling one night.
There is a young couple in the midst of their wedding celebrations and sort of confused, another couple, and visibly distraught because the girl is flying out to pursue further studies.
In another corner of the same city, two small-time criminals are dreaming of millions. In another dark alley somewhere, their boss is charting a bigger game.
Older brother Saif Ali Khan receives fatal news and goes over the top. Younger brother Akshay Oberoi gets a call from his ex flame and goes over the top too.
Over the years we've watched many gripping one night stories and Kaalaakandi is easily the most forgettable of all.
Should you watch Kaalaakandi? Well, it's your precious time and money so your call.
I rate Kaalaakandi with 1.5 stars.
@bhawanasomaaya