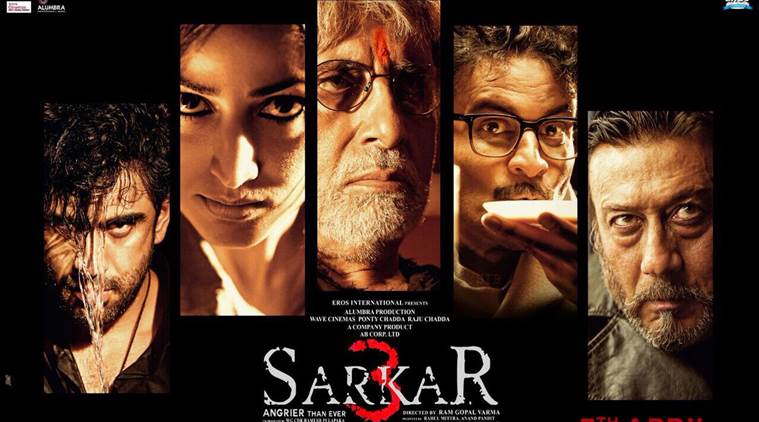 Film Review: Sarkar 3
Date: 12 May 2017
Director: Ram Gopal Verma
Writer: Nilesh Girkar/ story P Jayakumar/Ramkumar Singh/ Dialogues
Cast: Amitabh Bachchan, Manoj Bajpayee, Jackie Shroff, Amit Sadh
Rating: 3 stars.
He meets everyone only at his home and amidst his security and speaks more through his eyes and gesticulations than words.
The visitor seat is placed at a distance and from the manner in which they stroll into his abode, their body language, and tone, Subhash Nagre gages the purpose of their visit.
In 2005 Verma released Sarkar that introduced us to the power and charisma of Subhash Nagre. In 2008 he made Sarkar Raj that shed light on his family and complex relationships.
In 2017 Verma brings Sarkar 3 that gives insight into his wisdom and mindset.
In the decade gone by, a lot has changed in the life of Sarkar/ Amitabh Bachchan. He now lives in a new and a bigger home with his ailing wife Pushpa/ Supriya Pathak and has a new set of enemies Despande/ Manoj Bajpayee, Vallya/ Jackie Shroff and new body guards as well Gokul/ Ronit Roy.
A lot, however, remains unchanged…
His aura and power over the public… His passionate, motivating speeches…The stream of visitors at home and some old habits…Subhash Nagre still peppers his meals with a dash of pickle and audibly relishes his tea in a saucer.
The minus of the film is that it is too dark and without a serious plot. Most of the film is one location and one kind of lighting. The background is cacophonic!
The plus is that the story dares to focus on characters, not common in Hindi films. The dialogues are dramatic and all the performances first rate: Amit Saad is the surprise packet and Amitabh Bachchan – the backbone of the film.
There's a favorite dialogue of Subhash Nagre in the film and he repeats it often: "I do what I think is right" he says and this conviction underlines his performance.
Watch Sarkar 3 for the magnificent presence of Bachchan. I rate Sarkar 3 with 3 stars out of which 1 star is exclusively for Subhash Nagre.
Follow me on Facebook, Twitter, and Instagram  @bhawanasomaaya