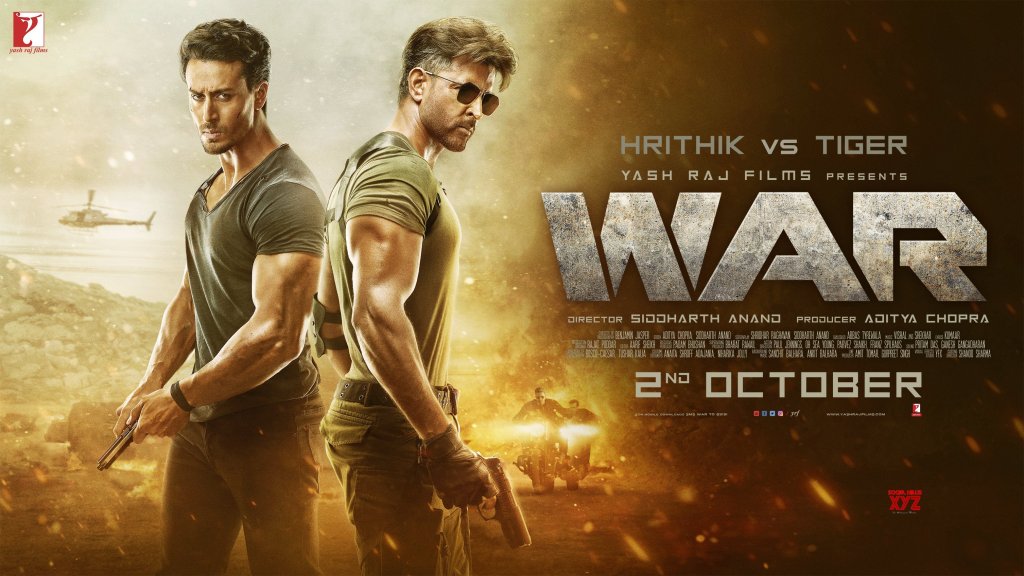 Watch War for Hrithik Roshan, Tiger Shroff, and their sizzling chemistry
Film: War
Date: 02.10.2019
Producer: Aditya Chopra
Director: Siddharth Anand
Writers: Abbas Tyrewala, Shridhar Raghavan, Siddharth Anand
Music: Vishal- Shekhar
Cast: Hrithik Roshan, Vani Kapoor, Tiger Shroff
Ratings:  4 stars
Whether he hops out of the chopper bruised and muddy or walks to attack his oppressor in a public café, there is a determined gaze about Kabir. His mind is ticking all the time and he is cautious even when he is not looking. There is restraint in his responses, he takes time to react, to befriend and time to share secrets as well. He is surgical but sincere, tough on his team but thoughtful too.
There are some audiences like me who don't enjoy watching war films and make up their minds about on the basis of the film posters or trailers. So let me clarify that Aditya Chopra's War is not about fighting on the battleground but fighting against terrorism and the original title of the film was Fighters which got changed to War when it was time for the trailers.
So this war is fought from lavish rooftops of big cities, machine guns fired from choppers and fancy cars blown into the sea. The negative characters travel all over the world on fake passports and fake identities and never get caught. It is a patriotic film yes but with all the magic and masala of a mainstream movie. There is color, music, glamour, and promise of permanence but you soon realize it is a mirage and like the characters in the film you are guessing till the very end.
The most attractive thing about Aditya Chopra produced War is the treatment and the packaging. It has super cinematography and outstanding action! A gripping screenplay combined with razor-sharp editing evolved writing, terrific dialogues, intriguing locations, and characters. Thriller movies are usually not high on emotion quotient but this one is an exception. The characters go through a roller coaster ride and the audience through so many twists and turn that they are guessing till the end!
Vaani Kapoor has a brief but an effective presence.  This undoubtedly Tiger Shroff's best so far. Hrithik Roshan proves yet again that he is a master of all genres and all roles. After playing Anand Kumar in Super 30 he lends new energy and attitude to the ever cautious Kabir who in a way determines the tone of the film!!
The credit for this goes to director Siddharth Anand who serves us a well-meaning thriller without compromising on message or entertainment. There is no gender discrimination, in fact, all important decisions are taken by the women – Soni Razdan, Vaani Kapoor and Hrithik's Kerala colleague and there is no talking down either, relieved to finally watch a child on screen who is normal and individualistic.
Does it mean I have no objection to the film, of course, I do? The background score in the action sequence broke my eardrums and the gory violence in the climax where Hrithik pulls out a nail from his palm and a bullet from his chest is too much to bear.
War is a modern, stylishly mounted; the contemporary film that celebrates the nation but also technology and the effort needs to be lauded.
Watch War for Hrithik Roshan, Tiger Shroff, and their sizzling chemistry.
Bhawana Somaaya