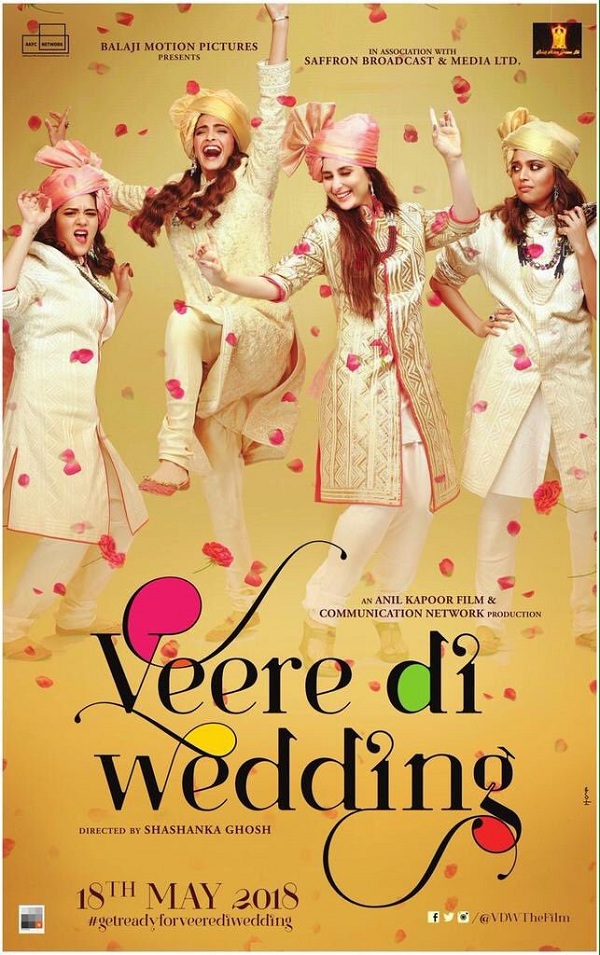 Release: 01.06.2018
Director: Shashanka Ghosh
Writer: Nidhi Mehra, Mehul Suri
Cast: Kareena Kapoor Khan, Sonam Kapoor, Swara Bhasker, Shikha Talsania, Sumeet Vyas
Sometimes, an idea is more interesting than the execution. Sometimes, the making of a film is more enjoyable than the film.
Cinema is a tricky media because what's intended is not always successfully projected and which is probably happened in the case of Veere Di Wedding.
Telling the story of four school fiends Kalindi/ Kareena Kapoor Khan, Avni/ Sonam Kapoor, Sakshi/ Swara Bhasker and Meera/ Shikha Talsania who find their paths and live in different cities but stay connected via skype and phone.
10 years pass by…Two are married, one is a successful lawyer and the fourth, Kalindi after much trepidation has agreed to say I do to her live in boyfriend. Kalindi's wedding is a reunion for all the friends and predictably much unfolds at the event.
The minus of the film is the lack of detailing, so we have four interesting characters but without real situations, conflicts or misgivings and female bonding is all about clinking champagne glasses, holidaying on beaches and sex but unfortunately, sex scenes don't make a film narrative.
The plus is the refreshing casting, the chemistry between the co-actors, exotic locations, super styling, some outrageous dialogues and the effort to redefine woman-centric cinema.
Among the performances, Neena Gupta as Sonam Kapoor's mother and Sumeet Vyas as Kareena Kapoor's partner effective. This is not a film about individual histrionics but when the four friends come together on screen, they sizzle!
If you are looking for great locations, star presence maybe this chick flick is for you and so what if the trailers don't live up to expectations.
I rate Veere Di Wedding with 2 stars.
@bhawanasomaaya