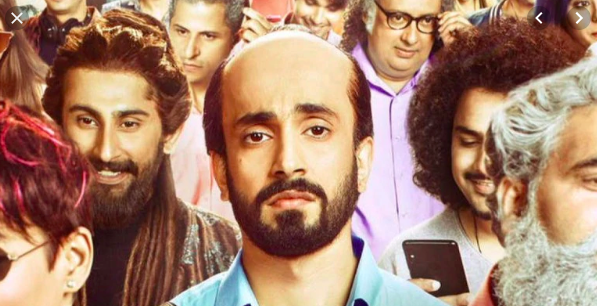 Well Meaning
Film: Ujda Chaman
Release: 01.11.2019
Director: Abhishek Pathak
Writer: Danish J Siungh
Cast: Sunny Singh, Manavi Gagroo, Saurabh Shukla, Atul Kumar, Grusha Kapoor
Ratings: 2 stars
There are films which have no content but have you excited with their dramatic presentation and there are films that have a pertinent message but are so unattractively packaged that they leave you unengaged.  Director Abhishek Pathak's Ujda Chaman falls into the latter.
Kohli family residing in a lower middle class colony of North Delhi is extremely worried because their older son Chaman is not yet married so every weekend the family agenda is to visit a prospective suitor and somehow get them engaged.
The last time they met a prospective family, a little boy on the pretext of getting friendly to Chaman sat close to him and threw the cap off his head, a eureka moment for everyone to see that Chaman is bald.
Ujda Chaman inspired from 2017 Kannada film Ondu Motteya Kathe quite literally addresses receding hairline and raises a debate between physical appearance versus inner beauty. It is a film about ageing and 30 is a frightening figure in a traditional marriage market where time is running out and choices are restricted.
Chaman/ Sunny Singh, 31is a Hindi professor, often ridiculed by his students because of his appearance as a result Chaman is awkward and under confident.  The family pundit has predicted that if Chaman is not married before his 32nd birthday there is a possibility that he will remain single.
Apsara/ Manavi Gagaroo, 29 is a makeup artiste in the fashion world, she is outgoing, compassionate but self-conscious because she is overweight.
Both are looking for appropriate partners on Tinder but their first date ends in a freak accident and the desperate parents are convinced that they are serious about each other. The families are super excited and cannot wait to announce the engagement when there is a twist in the story and Chaman and Apsara are back to being single!
The minus of the film is an unusually slow pace; the writer takes more than two hours to drive a single point home. Often the humour is out of place particularly about celibacy and testosterone, who talks like this in present times? It is unconvincing that the students ridicule their professor just because he is bald.
The plus is the message of the film that one must not be judgemental on the basis of appearances. To be bald is not a crime – there's a sensitive sequence in the film where the hero on his way to work views characters from a hair perspective. To be overweight is not a crime and to age is natural so why make these into a topic of gossip? Staying single is a matter of choice and not a reason for social debate.
The best performances comes not from the lead cast but from the hero's parents Atul Kumar and the delightful Grussha Kapoor – another Badhai Ho team in the making, take a bow.
I rate Ujda Chaman with 2 stars.
Bhawana Somaaya/ @bhawanasomaaya