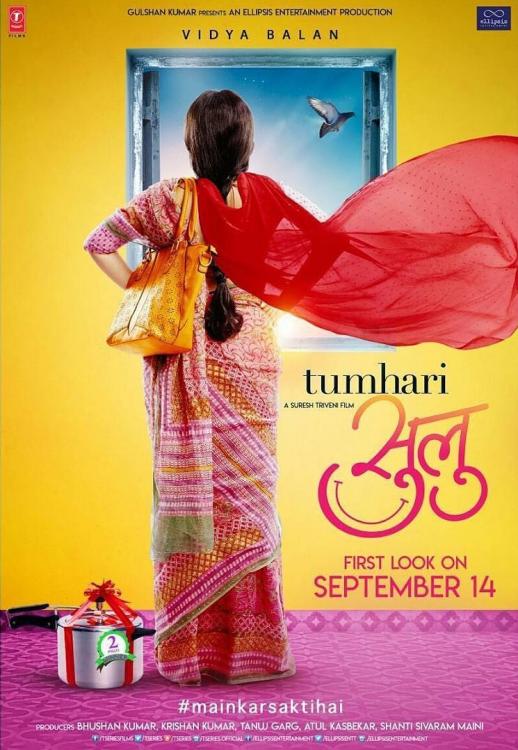 Film: Tumhari Sullu
Release: 17 November 2017
Producer: T Series
Writer/Director: Suresh Trivveni
Cast: Vidya Balan, Neha Dhupia, Manav Kaul 
Sulochana has participated in every contest you can think of – Lemon &Spoon, Best Mummy, singing, compering, even embroidery and more often than not won the contest.  She is always at home but is far from the bored housewife because Sulochana (Sullu for the family) has a knack for keeping herself entertained.
If it is not her favourite channel on the radio, it is her daily visitor, a pigeon she chats with resting on the swing overlooking the window. She is always ready to chat up her airhostess neighbours and when they don't pay heed she engages herself playing a prank on the local grocer.
Sulochana's husband Ashok/ Manav Kaul is a supervisor in a tailoring factory and even though money is not in excess the couple is well adjusted in their modest life with their eight-year-old son in Mumbai's faraway suburb.  If Manav is harassed by his boss at work Sulochana feels oppressed by her maiden family –her father, sisters and brothers-in-law who make her feel unworthy because she is not working and her husband is not in a flourishing job either.
One day, Sulochana wins a contest on the radio and has to visit the studio to collect her prize, a pressure cooker and auditions for an RJ job. She is inexperienced but is confident and has a great voice and the program head Maria/ Neha Dhupia chooses to gamble on her. The late-night show Tumhari Sullu is a super hit and Sulochana, an overnight star.
The best thing about the film is the detailed writing- all the characters, their interpersonal relationships, conflicts and insecurities. Woven in fragile moments and tentative moods, the script travels a tumultuous journey bringing the characters closer to your heart. They make you laugh, cry, sing and dance with them.
To define Tumhari Sullu as a film on gender gaze and aspirations will be unfair because it is much more than that, it is about changing perceptions, altering mindsets. Director Suresh Triveni takes up for often neglected homemakers and raises concerns.
Right to expression – Sulochana desires a platform to express herself, a responsibility that makes her feel worthy and therefore turns down a mundane job even though the family can do with some extra money.
Right to independence – Independence is not just economical but also mental and emotional. It changes your mindset and your worldview and which is what happens with Sulochana when she joins Wow channel.
Right to sexuality – If men can celebrate their sexuality so can women and when Sulochana becomes RJ Sullu she is awakened to her sensuality and relishes it.
Right to choice – It is for Sulochana to determine if she wants to continue or quit her career for the sake of the family and she is at liberty to choose whatever she desires.
Vidya Balan as Sulochana is par excellence and has you riveted to the screen and to her twinkling eyes. As her husband, Manav Kaul matches her in every scene, ably supported by Maria ma'am/ Neha Dhupia.
Rush to the nearest theatre to watch Tumhari Sullu with your entire family because I rate it with 4 stars out of which 1 star is reserved only for Vidya Balan.
@bhawanasomaaya