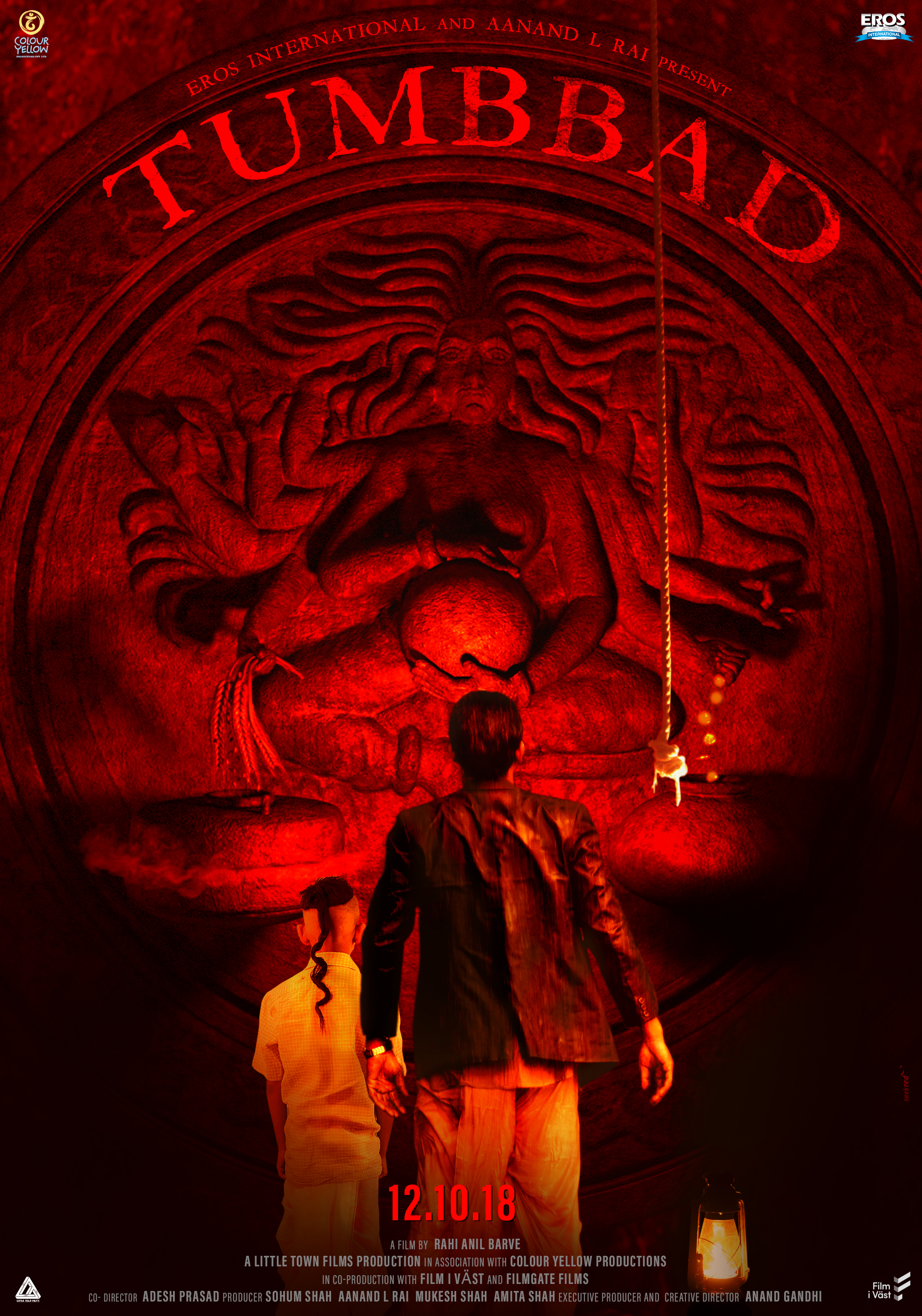 Film: Tumbbad
Date: 12.10.2018
Director: Rahi Anil Barve, Anand Gandhi
Writers: Mitesh – Adesh – Rahi – Anand
Cast: Sohum Shah
Once Upon a time long, long ago, a remote village in Maharashtra is cursed by the wrath of the Gods that it will forever drench in torrential rains.
The village has a king addressed as Sarkar who lives in a sprawling mansion called Wada.
He has a caretaker, a young widow and mother of two who arrives every morning to attend to Sarkar and leaves before dusk.
The widow lives in a small Wada and attends to a mysterious captive in the house who the children have never seen but address as the grandmother.
On a stormy night after a tragedy befalls on the family, the widow flees to Pune determined to never return to the cursed land.
Not her son Vinayak though who is lured by the hidden treasures in the decaying estate and as his greed increases so do the miseries of the family.
The film journeys from 1933 to 1947 diligently captured by an extraordinary production design that recreate streets, vehicles, homes, costumes, even conversations from that era.
The narrative gets into the mindset and the lifestyle of both, the underprivileged and the affluent as the narrative travels you through crumbling mansions, cozy mezzanine floors and luxurious brothels.
There are robust love scenes, ugly fights and cruel decisions; here is a story of deception, greed and intrigue you can never imagine.
Splendidly written, artistically shot, tautly edited and devotionally composed Tumbbad keeps you perplexed till the end credits.
Supported by an ensemble cast, Sohum Shah as Vinayak delivers a pitch-perfect performance.
It does not matter how you classify this film – you can call it horror, you can call it folklore, a combination of both or none of it.
It does not matter that a lot of it is illogical, incomprehensible even inaudible. Perhaps the makers wanted it that way- to leave it unexplained.
What matters is that it is engrossing, at times terrifying and visually seductive!
If Hollywood presented a film penned by four, composed by three and directed by two we would be instantly curious.
Here is filmmaker Anand Rai offering support to an out of the box, non-starrer and producer/ actor Sohum Shah hanging on to his dream forever.
If Shah can dedicate seven years of his life to Tumbbad, we can certainly spare 1 hour 44 minutes to watch his labour of desire.
I rate Tumbbad with 4 stars.
(Watch out this space for the video link of my review on @TheMovieMotha/Youtube on Friday)
Bhawana Somaaya