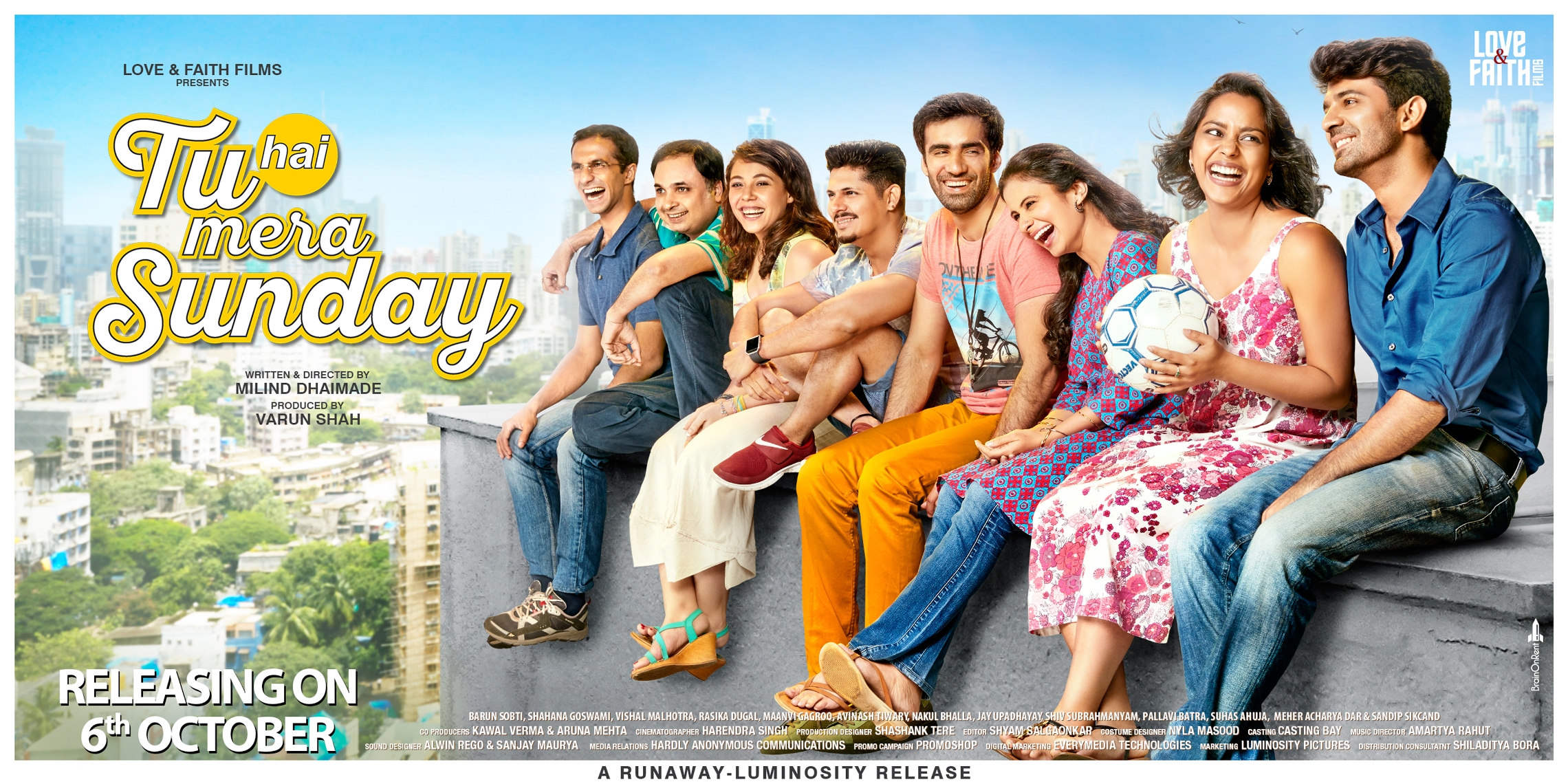 Release: 06.10.2017
Director: Milind Dhaimade
Cast: Barun Sobti, Shahana Goswani, Avinash Tiwary, Vishal Malhotra, Nakul Bhalla and Jay Upadhyay 
Musician: Amartya Rahut
Tu Hai Mera Sunday is the story of five friends Arjun, Rashid, Domnique, Mehernoosh and Jayesh.
Arjun /Barun Sobti quit his corporate job to relish life as the consultant. Domnique/ Vishal Malhotra nurtures dreams to launch a band but that hasn't happened as yet.
Rashid/Avinash Tiwari, owns of a laundry but has never dry-cleaned his home. Mehernoosh/ Nakul Bhalla is Chief Accountant in a company and hates his boss with a passion and finally, Jayesh/ Jay Upadhyay is a stockbroker who yearns for a hassle-free life.
In a city bursting with people and problems, the five find respite through a ritualistic game of football every Sunday at the Juhu Beach. Football is their passion and yet it's not just the love of the sport that keeps them together. A freak accident on the beach puts a ban on all sports and now the friends loiter around the city hunting parks/ bridges/ lanes/ buildings for empty space to kick the ball play but there's no such spot in Mumbai city.
Tu Hai Mera Sunday is more than a tale of friendship; it is about their extended families, their complexities, and dreams. It is also the story of Mumbai city, desolate, lonely and yet strangely compassionate.  Superbly written, innovatively shot, expertly edited, the film raises multiple issues ranging from gender gaze, seniors and caregivers, single parenting, sibling conflict, marital negligence and joint family responsibilities.
It is to costume designer Nyla Masood's credit that the characters stroll from the screen and inhabit our hearts. The film premiered at the BFI London Film Festival in 2016 which says a lot for a film flanked by mostly newcomers except Shiv Subramanium and the absolutely brilliant Shahana Goswami.
I have not stopped smiling since I watched Tu Hai Mera Sunday and so will you.  I rate Tu Hai Mera Sunday with 4 stars.
 @bhawanasomaaya