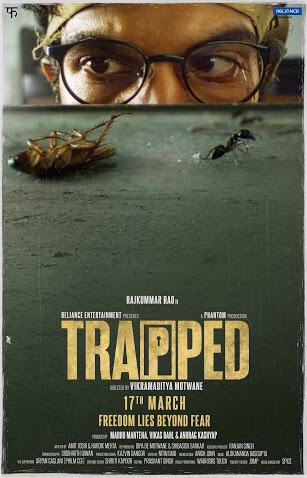 Date: 17 March 2017
Producer: Phantom
Director: Vikramaditya Motwane
Cast: Rajkumar Rao, Geetanjali Thapa
Rating: 3.5 stars
A youngster, Shaurya / Rajkummar Rao in hurry to leave for work, forgets thekey outside his apartment door and gets locked inside the house.
He is trapped inside a high rise building of Mumbai city devoid of electricity or water and no one can hear him shout and cry for help from the 35th floor.
Trappedis an unusual story of extreme circumstances, of anguish, desolation, challenges and survival.
It is a story of a heartless city where nobody has the time and patience to notice or react to another.
It is the story of countless migrants who come here in search of a dream, live alone and fight demons every day.
And finally, it is a film about our present lifestyle; facilities we take for granted and have become so accustomed to that to think of a life without water/ electricity/ phone is unimaginable.
Shaurya battles with all these and more and as days go by and all his efforts fail, he breaks down and suffers hallucinations, but he conquers his fears and rises again and finds a way out.
It is not as if the film is flawless, there are many areas that the writers have overlooked.
For somebody as cautious as Shaurya how come he trusted the con agent blindly? How come he did not check the taps and the switches before paying advance? Why did he not pause and ponder that all the flats were sold nobody had as yet shifted into the building?
While it is understandable that nobody can hear/ see him shout and cry from the 35th floor it is unusual that nobody from the neighboring buildings reacted to the fire break out in the middle of the night? Or that the indifferent watchman, no matter how self-centered, will not react to the television set flung from a top floor in the building?
Two hour ten minutes duration become tedious to be restricted to one location and one character andby the end of it you feel so claustrophobic that you are desperate to exit the theatre.
Shot in exactly one monthTrapped is superbly written, sensitively executed and expertly performed by Rajkumar Rao.
All of us need to watch Trappedso that we never go through what Shaurya did.
I rate Trapped with 3.5 stars.