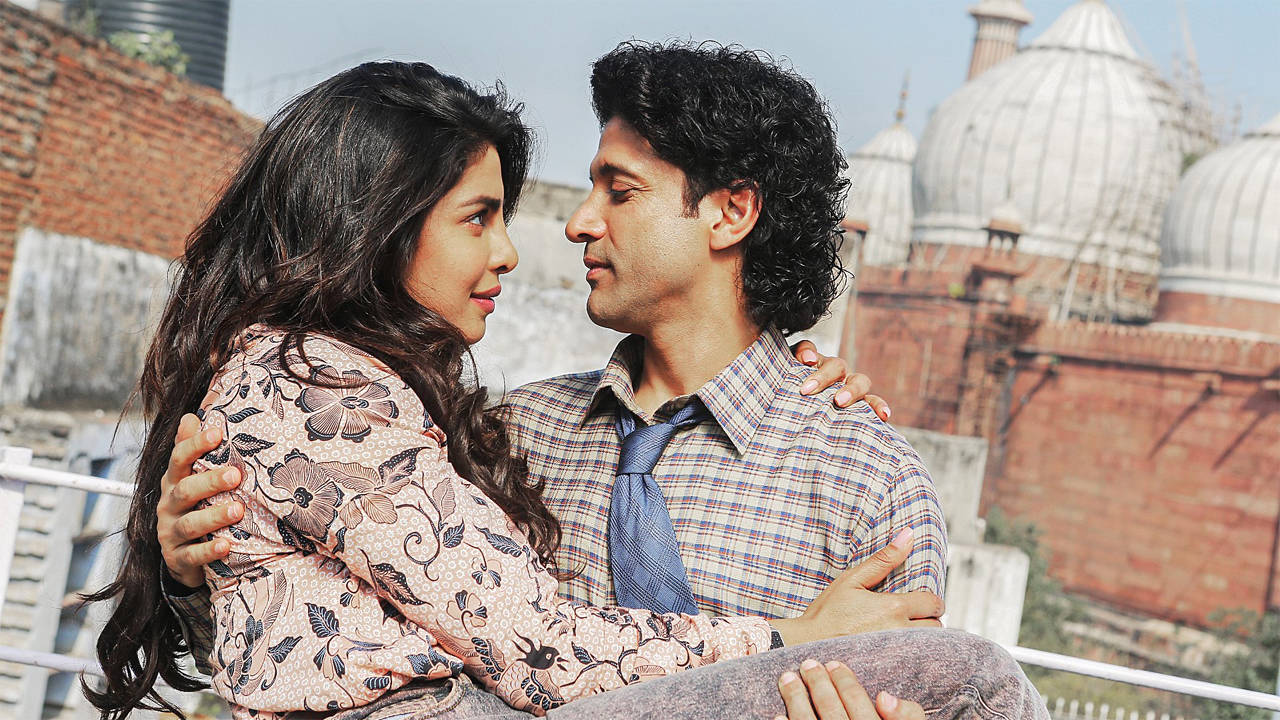 50 shades of Marriage
Film: The Sky is Pink
Date: 11 October 2019
Director: Shonali Bose
Writers: Shonali Bose, Juhi Chaturvedi
Cast:  Priyanka Chopra Jonas, Farhan Akhtar, Zaira Wasim, Rohit Suresh Saraf
Ratings: 2. 5 stars
Shonali Bose made her debut film Ammu in 2005. Almost a decade later she made her second film Margarita with a Straw about a cerebral palsy affected heroine and her third film, The Sky is Pink tells about another genetic infirmity SCID ( Severe Combined Immunodeficiency Disorder).
The difference being that while Margarita with a Straw sidestepped all sentimentality, The Sky is Pink wallows in it. This is the story of a marriage; rather a family, spanning 25 years and told through the lens of their sassy, sardonic, teenage daughter Aishu now in her graveyard!
Niren/ Farhan Akhtar and Aditi Choudhary/ Priyanka Chopra Jonas carry a rare gene that produced a disorder in their firstborn Tanya who they eventually lost. Their second child Ishaan/ Suresh Saraf is normal and the third Aishu/ Zaira Wasim is born with the same disorder but this time the parents put up a brave fight before they give up.
An expensive treatment of bone marrow transplant in London leads to pulmonary fibrosis and as the medical complications multiply the couple is forced to live apart – Niren with Ishaan in Delhi and Aditi with Aishu in London but as the waiting gets longer the family lives under one roof but it is not easy.
There are ample moments that touch your heart…Niren pleading for aid at the radio station amazingly performed by Farhan Akhtar…Aditi capturing her daughter suddenly walking or consoling her disturbed son on a long-distance call…The climax though predictable is restrained and has deeper insights.
The main problem for me is the structure – there are too many flashbacks and flash-forwards spanning almost three decades where locations/ climate/ hairstyle/ wardrobe/ lifestyle alter but the couple never looks weary, old or out of shape. The narrative after a point becomes invasive and prevents you from absorbing the tragedy. There's too much of chatter and the heart yearns for silences.
It is unconvincing that the normal sibling/ Ishaan never feels deprived of his parents' attention and does not nurse mixed emotions towards his ailing sibling. It is unconvincing that the parents never fantasize about escape from their situation.  At some point one expects super mom Aditi to break down but not to land up in a mental hospital!
The Sky Pink is based on the life of a real family depicted in the end credits and true stories are usually heart-rending but sometimes the characters get over-involved in the adaptation and then the screenplay gets lost in the projection. Probably that is what has happened with writer/ director Shonali Bose. She appears too involved with the star parents and the real parents and missed out on the raw pain that should have pierced the heart.
It is a long and extremely slow-paced film, so watch it for the explosive Priyanka Chopra and the understated Farhan Akhtar portray 50 shades of marriage.
@bhawanasomaaya