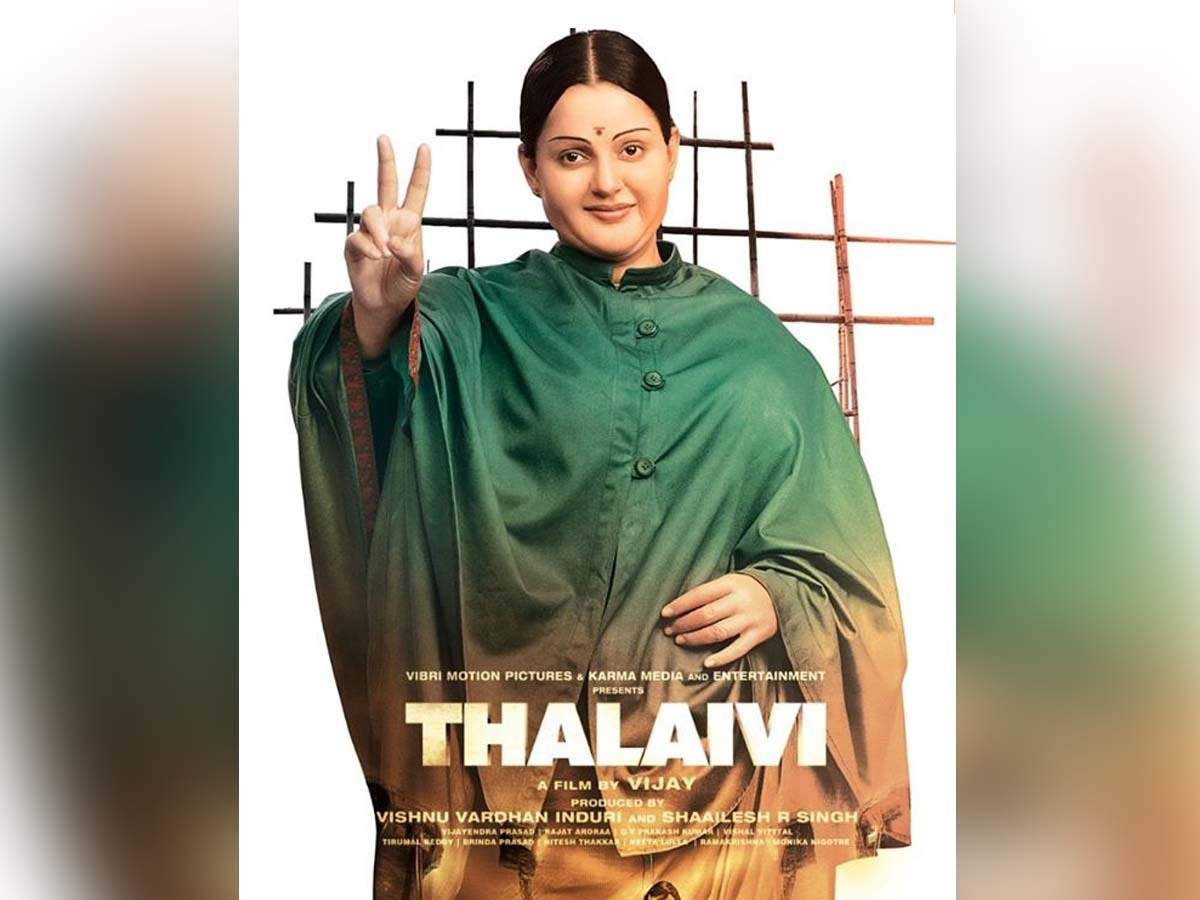 Film: Thalaivi
Date: 10.09 2021
Kangana Lives Jaylalitha
In Mahabharat Draupadi was disrobed in public. In1989 Tamil Nadu Assembly, leader of opposition, J.Jaylalitha was pulled by her braid and dragged by her sari pallu and now in 2021, writer- director Vijay's Thalaivi Kangana Ranaut relives the anger and the anguish of both, Draupadi and Jaylalitha.
The film opens with this shameful incident and even though we are all familiar with the proceedings watching it replay on the big screen is devastating. Thalaivi is based on author Ajayan Bala's book by the same title and captures thirty years in the life of Tamil Nadu chief minister J.Jayalalitha.
Beginning in 1964 when sixteen-year-old Jaya/ Kangana Ranaut met superstar MGR addressed as MJR in the film/ Arvind Swami on the sets of her debut film. This is a story of their attraction, their super hit pairing, their blossoming romance and the devotion of the audience. Their heartbreaks, their personal anguish, controversies, party politics and Jaya braved all these storms to rise and rule as Tamil Nadu Chief Minister.
Unlike other period films, Thalaivi makes no mention of dates and years, rather seamlessly travels time through changing sets and surrounding, fashion and conversations. We notice a change in Jaylalitha's body language post her road accident, the medical complications and the steroid injections resulting in rapid weight gain and change in attire.
There's no denying that Thalaivi is an engaging narrative but it is not the complete truth because all of us remember history the way we want to and Thalaivi is author Ajayan Bala's perspective. Director Vijay adapts the book into a selective presentation, ignores many important facets and undermines the role of MGR's wife Janki and Jaylalitha's companion, Shashikala, clearly a conscious decision.
If you can ignore these prejudices or safety devices, there are many positives to appreciate in the film like music, lyrics, voices aur Rajat Aroraa's dialogues. The cast is interesting and the performances competent particularly the versatile Nassar as Karunanidhi even though his eyes are forever covered with dark glasses and Raj Arjun as RNV, watch out for his expression when Jaya wins the elections!
If Kangana's ensemble team of hair/ makeup/choreographer and stylist Neeta Lulla dress up the body of Jayalalitha, the soul comes from Kangana's sparklingly, uncompromised, flawless performance. Ranaut is riveting in every frame and you cannot look at anything while she is on the screen.
I rate Thalaivi with 4 stars 2 out of which are reserved only for Kangana. Take a bow lady!
Bhawana Somaaya