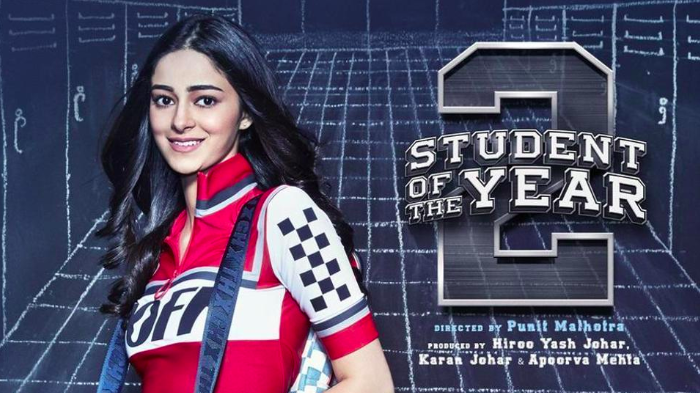 Watch SOTY 2 for Tiger Shroff
Film: Student of the Year 2
Date: 10.05.2019
Producer Dharma movies
Director: Punit Malhotra
Cast: Tiger Shroff, Tara Sutaria, Ananya Pandey
Ratings : 3 stars
Student of the Year 2 is a sequel of producer Karan Johar directed 2012 release Student of the Year. The former introduced three new actors, Siddharth Malhotra, Alia Bhatt and Varun Dhawan, the latter introduces two new girls Tara Sutaria and Ananya Pandey, daughter of Chunky Pandey.
The prequel was a love story, so is the sequel because colleges in Hindi movies are synonymous with romance and action related to romance. So we have three students in the film, Rohan Sachdev/ Tiger Shroff, Mrudula/ Tara Sutaria and Shreya/ Ananya Pandey who kind of play musical chairs and engage you with songs and dance.
There's nothing new about love and all that changes are the characters, their intensity and emotion quotient. The prequel emphasized on more complicated relationships, the sequel addresses more issues. There are academic issues like the down market Pishorimal Chamandas College pitched against the upper class St Teresa College, their complexities, attitudes, mindset and cultural differences.
Then family issues like Ananya Pandey is the poor rich girl trapped between an egoistic brother and a ruthless father.  There are serious friendship issues too but fortunately the conflicts transform into team spirit during the climax.
Actually, director Punit Malhotra serves you a three- in- one entertainment together combining sports-dance –romance – action. There is a handsome villain too and all the actors look stunning styled by the super fashionable Manish Malhotra.
It does not matter that the story is predictable and the locations exaggerated. It does not matter that the songs start in Dehradun and end in Maldives. I have no problems with the creative liberties because lavish productions and beautiful packaging are part of Dharma Movies DNA.
Both the girls, Tara Sutaria and Ananya Pandey are ravishing but Ananya has an edge over Tara and the star of the film is Tiger Shroff who is perfect in every frame, dances like a dream and moves like a deer.
Some films are not meant to be analyzed, just enjoyed with friends. The highlight of the film is a 60-second appearance by Hollywood superstar Will Smith and when he comes on screen it is a fully paisa vasool moment.
Watch SOTY 2 for William Smith and for Tiger Shroff the worthy candidate of the student of the year trophy and also director Punit Malhotra who proves an able student of Karan Johar school.
Bhawana Somaaya/ @bhawanasomaaya