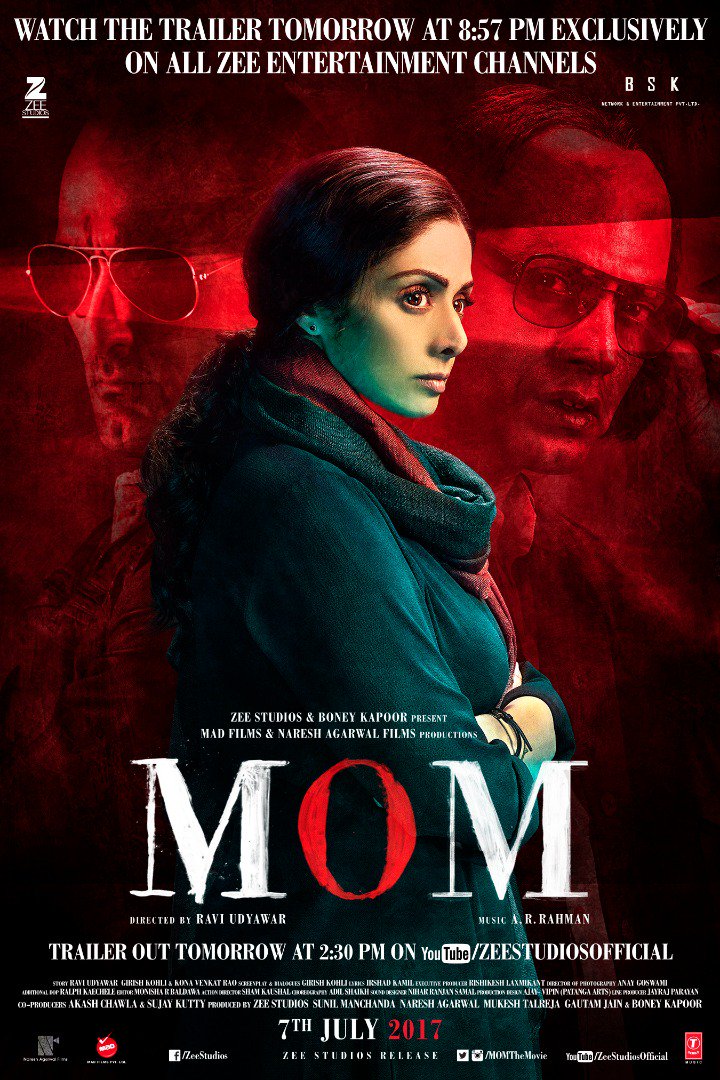 Film: Mom
Date: 07 July 2017
Director: Ravi Udyawar
Writer: Girish Kohli
Music: AR Rehman
Stars: Sridevi, Adnan Siddiqui, Sajal Ali, Nawazuddin Siddiqui, Akshaye Khanna
Ratings: 4 stars
In a dark night on a lonely street, a car drives soundlessly fighting the lashing rains, after some time the vehicle stops and you notice from a top angle that the passengers have changed seats. The camera does not allow any invasion but AR Rehman's melancholic score breaks your heart! This is just one of the many brilliant sequences in the film.
Mom opens as a family story where Devaki/ Sridevi is an empowered biology teacher in school. She likes to make the class interesting for her students so demonstrates the various muscles in a human body projecting a picture of Salman Khan. Her husband Anand/ Adnan Siddiqui is a globe-trotting business man. Over dinner at the dining table you sense tension brewing between the grown-up Arya/ Sajal Ali and her mother but it is subtle and underplayed and we have faith that the unrest will dissolve with time.
Misfortune always comes unannounced so while Anand is away on a tour Arya attends a valentine party and does not return home pat midnight.  A worried Devaki ventures to the farmhouse and later to the police station to finally locate her critical on a hospital bed!
The first half is superbly executed and breathless. Sridevi is chillingly dramatic be it her breakdown in the hospital, her outrage in the court or coping with a clinically depressed Arya at home. The second half unfolds as a revenge thriller gets predicable and overlooks pertinent details for example, it is a bit strange that none of Arya's school friends ever come visiting her home. There are no inquiries from her school or the neighborhood and most important, no invasive media waiting outside their home which is unrealistic following such a big scandal!
There are no surprises in the plot because all of us are familiar with the story, rather read about it every day in the newspapers. Years ago Amitabh Bachchan starred in a similar story called Adalat and Raveena Tandon addressed the same issue a few months ago in her film called Maatr so what makes Mom special?
There are many pluses: the treatment, the projection, the pace, the energy and the expression be it Akshaye Khanna, Sajal Ali or the magical Nawazuddin Siddiqui.
Monisha Baldawa's editing and Anay Goswamy's cinematography combined with AR Rehman's heart-rending melody is a perfect backdrop to portray a flawless and scintillating performance from Sridevi.   You cry with her when she breaks down at the hospital, you are outraged when she is let down by the judiciary, you are humbled when she swallows her pride for her children and fearful when she dares into the devil's den. Sridevi proves that 50 years and 300 films later she still has a lot to offer and English Vinglish and Mom is just the beginning.
I rate Mom with 4 stars and a big salute to Sridevi.