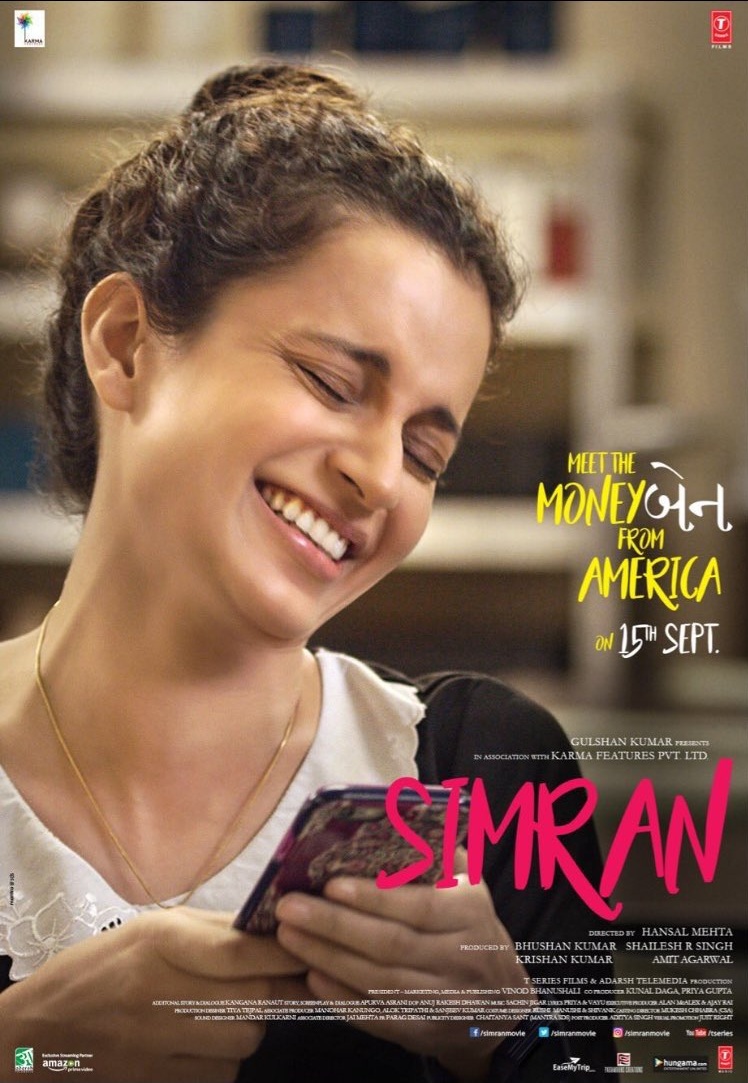 Film: Simran
Date: 15 September 2017
Director:  Hansal Mehta
Writer: Apurva Asrani
Cast: Kangana Ranaut, Soham Shah, Esha Tewari Pande, Aneesha Joshi
Music: Sachin-Jigar
For the past few weeks Kangana Ranaut and the team of Simran have been promoting the film as a refreshing tale of an emancipated single woman who lives life on her terms. Director Hansal Mehta's protagonist Praful Patel 30 and divorcee has a house-keeping job with a premium hotel and lives with her parents in Atlanta.
As the film progresses you discover that Praful is far from responsible and makes no contribution to household expenses. Senior Patel is frustrated with his daughter who makes no effort to pursue a degree, find better job placement or agree to alliance brought by the parents for marriage.
Praful's friend Ambar is getting married and takes Praful with her for a holiday to Las Vegas and the holiday changes Praful's life.
The first half of the film introduces us to Praful's parents and colleagues which is a replay of Queen without any new insights. The second half travels you into Praful's complex world where problems multiply rapidly without solutions.
In my opinion, the biggest flaw in the film is a character flaw.  Simran is thoughtless, reckless and fails to arouse any affection/ compassion from her viewers in fact by the end of the film I'm angry with her self-absorption.
While I understand that all kinds of people exist in the universe and Simran is inspired from a jail serving NRI Supreet Kaur based in America, I fail to comprehend how her story can serve any purpose because the message director Hansal Mehta imparts is that it if you don't have the money, steal it!
For the past few weeks, the team has been promoting Simran as a woman empowerment film! If drinking/ gambling/ deceiving/ looting banks is about empowerment then I think we need to look up the dictionary for the real meaning.
The only positives about Simran are Sachin-Jigar's music, cinematography, and the exotic locations. Kangana Ranaut is without dispute a magnificent actor but it is difficult to appreciate a performance when the character fails to connect with you.
I rate Simran with 2 stars.