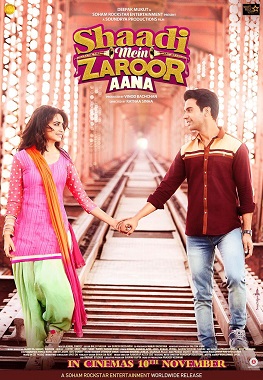 There's no way you can miss this shaadi
Film: Shaadi mein Zaroor Aana
Release: 09 November 2017
Director: Ratnaa Sinha
Writer: Kamal Pandey
Cast: Rajkummar Rao, Kriti Kharbanda
As the title suggests Shaadi Mein Zaroor Aana is the story of wedding, new and old relationships, age old customs in contemporary times.
Satyander Sharma/Rajkumar Rao and Aarti Shukla/Kirti Kharbanda meet for an arranged marriage and are pleasantly surprised that they like each other. Both agree for marriage and gradually fall in love as well.
The parents are overjoyed and excitedly preparing for the D Day which for pertinent reasons does not take place.
Five years later Aarti is a PCS officer and Satyander an IAS officer in coincidentally the same city.
In my opinion, there are four reasons for watching Shaadi Mein Zaroor Aana and they are as follows:
While we have watched many films shot in Lucknow and Kanpur, we've never really been exposed to a love story set against the India Civil Service which makes Shaadi Mein Zaroor Aaana the first and therefore refreshing.
Most of the subjects addressing women empowerment are either about her identity or dignity, Shaadi Mein Zaroor Aana puts up a case for Aarti's capabilities and her ambitions which is rare and a reality.
The family always comes first in our stories and individuals always sacrificed in the name of honor. This time everyone comes together in quest of a dream and strangely nobody thinks they've done wrong.
In all stories of marriages, especially those relating to small towns dowry is the inevitable villain, Shaadi Mein Zaroor Aaana proposes that there is life beyond dowry…
Rajkumar Rao has time and again proved that he can shine in any role; he does it once again, ably supported by Kirti Kharbanda and writer Kamal Pandey.  The crowning glory, of course, is debut director Ratnaa Sinha.
There is no way you can miss this progressive, sensitive, responsible wedding. I rate Shaadi Mein Zaroor Aana with 3.5 stars.
 @bhawanasomaaya