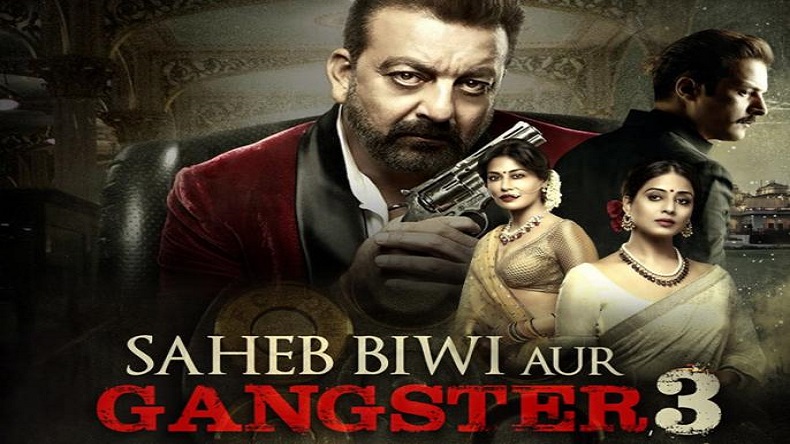 Welcome to the intrigue of palace politics
Film: Saheb Biwi aur Gangster 3
Date: 27 July 2018
Director: Tigmanshu Dhulia
Writers: Sanjay Chauhan, Tigmanshu Dhulia
Cast Sanjay Dutt,Jimmy Shergill, Mahi Gill, Chitrangada Singh
In a dark corner of a grand hotel in London, the Maharaja of India dressed in a hood plays a dangerous game for living. He sniffs vodka and shoots bullets. He is a master at the game and has made millions playing it but he is an unhappy man because he cannot return home and then accidentally, opportunity comes in disguise.
A brawl at the hotel followed by a police case and the Maharaja is deported to India and Uday Singh/ Sanjay Dutt is back to his palace and beloved.
Franchises globally are usually conceived with superstars which is why they spell big business. Tigmanshu Dhulia is perhaps the only writer-director who has dared to take super actors instead of superstars and weave stories of ambition, lust, and deception and create a trend of sorts.
If Randeep Hooda was the outsider in Saheb Biwi aur Gangster released in 2011 and Irrfan Khan in Sahbe Biwi aur Gangster Returns Sanjay Dutt is a pawn in the ongoing domestic drama between the King Aditya Pratap Singh/ Jimmy Shergill and his queen Madhavi Devi/ Mahie Gill.
This time, the film is about two kings/ Sanjay Dutt and Jimmy Shergill, two queens/ Mahie Gill, Soha Ali Khan, and two loyalists/ Kanhaiya and his daughter played by Paoli Dam. This time the premise shifts from Uttar Pradesh to Rajasthan and briefly to Europe so the scale gets bigger adding a glamour quotient that was not visible in the franchise's earlier installments.
There is an item number, a romantic song between Sanjay and Chitrangda which frankly interrupts the storytelling and is the only sore point of the film. The positives are the hard-hitting dialogues, essentially the narrative as the characters get more layered and the situations more complex.
The director wastes no time in setting the plot and embroils you in the dark, dangerous, morbid tales of palace politics.
As Suhani Chitrangda Singh adds fragrance to an otherwise ruthless story, Sanjay Dutt is disappointingly repetitive. Jimmy Shergill looks royalty and plays the king with amazing poise and restraint while Mahie Gill for the third time has you riveted to the cruelties and the vulnerabilities of queen Madhavi. Saheb and Biwi are clearly the reasons for us to watch the film.
Director Tigmanshu Dhulia's Saheb Biwi aur Gangster 3 is unpredictable, unconventional; watch it if you are a fan of the franchise or if you relish the dark side of human stories.
I rate Saheb Biwi aur Gangster 3 with 3 stars.
Bhawana Sommaya/ @bhawansomaaya