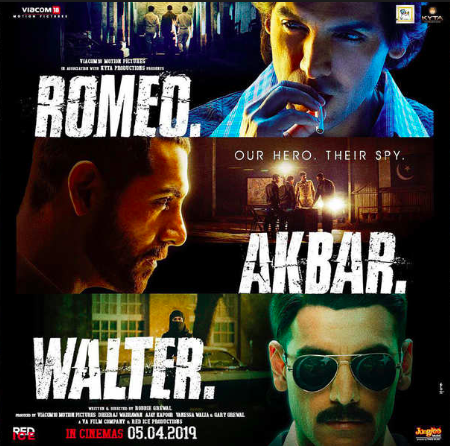 Neither patriotic nor emotional
 Film: RAW
Date: 06.04.2019
Director: Robbie Grewal
Producer: Viacom18 Motion Pictures
Writers: Robbie – Shraq -Shreyansh
Cast: John Abraham, Mouni Roy, Jackie Shroff, Sikandar Kher
The film opens with a spine chilling torture scene where Pakistan Army officer/ Sikander Kher cuts the fingernail out of a battered, bleeding John Abraham and lets out an anguished cry that tears through your heart.
You fasten your seat belt and get ready for a spy thriller that will take your breath away but alas, there is nothing more to wait for.
Writer-director Robby Grewal tells the story of a bank employee, Romeo/ John Abrham who is hand-picked by the Indian Foreign Intelligence Agency, to be posted as an undercover spy in Pakistan. For this, he is given a vigorous training inclusive of shooting lessons/ Observation & Polygraph Tests and other skills required for a spy.
He is warned that all communications will be coded and decoding them will be his responsibility, 'What if I am unable to interpret it the correct way' asks Romeo. 'Then you will rely on your instinct' advises his chief/ Jackie Shroff.
Now Romeo has a new identity/ Akbar and a new posting / Kashmir where he works with a hotel group and wins the trust of the most lethal and powerful. He has told his mother that he is traveling on training for promotion and will soon return home.
Life is never easy for a spy and when Akbar senses he is going to be exposed he changes his identity yet again and plays the biggest game.
In case you are confused by the plot, well that is the intention of the filmmaker, his screenplay is deliberately misleading and many questions pop up in your mind while you are watching the film:
A spy is selected on the basis of his capabilities so why does the Raw Chief make the art of disguises criteria for selection?
Why does the chief fail to groom his candidate in the most important lesson – discretion?
How come Akbar as a spy is so frequently emotional and in the process makes so many mistakes?
Why should the most powerful man in Pakistan so easily include Akbar in his inner circle?
Why should Akbar agree to deliver an invitation to a stranger's room when the hotel could easily do that?
It is fatal for a spy to meet a beloved on the street and Akbar dares to spend a night with her.
A spy thriller calls for a fast-paced storytelling/ haunting music and nail-biting suspense but unfortunately Raw arouses neither patriotism nor fear in you. This should not have happened because it is a true story inspired by the unsung heroes who sacrificed their lives during the 1971 India-Pakistan war.
A story that celebrates motherland over mother should make you cry but poor execution, unconvincing characters and distorted message, leaves you cold and unmoved.
It takes ages for the first half to end and post the interval you are restless to get home.
There is a possibility that the script must have been interesting on paper and I have no doubts about the intentions of the director.  The actors do their best: Jackie Shroff as RAW chief/ Sikander Kher as Pakistan army and John Abraham as Romeo-Akbar-Walter. It is a pity that the beautiful Mouni Roy is completely wasted!
Must you watch RAW, well in an important scene in the film, Jackie Shroff tells John Abraham 'When you are confused to follow your instinct'. My answer is: If you are confused about my review, follow my ratings…
I rate RAW with 1.5 stars.
Bhawana Somaaya