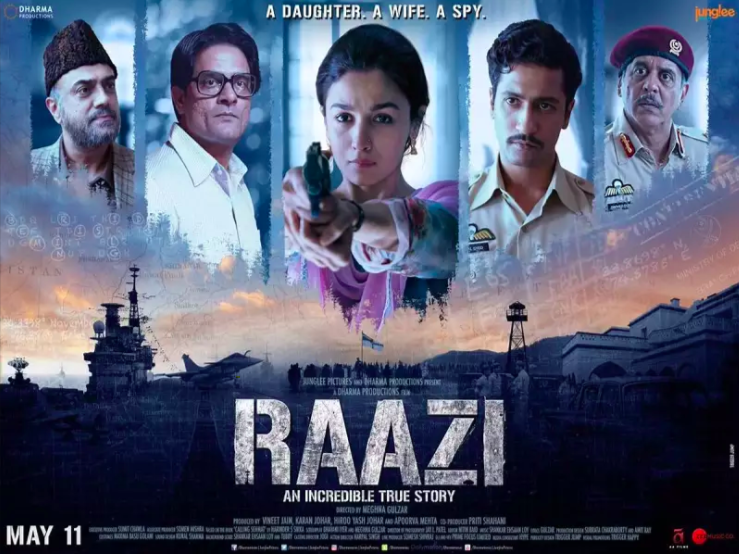 A must watch for every Indian
Film: Raazi
Date: 11 May 2018
Director: Meghna Gulzar
Cast: Alia Bhatt, Vicky Kaushal, Rajit Kapur, Shishir Sharma, Jaideep Ahlawat
Ratings: 4 stars
She studies at Delhi University but her heart belongs to the valley where her parents live. She is 20 years-old but is old fashioned to submit to the dream of her father.
She is scared at the sight of blood, fears injections but ready to inconvenience self to save the life of a squirrel.
Sehmat Khan/ Alia Bhatt is summoned home urgently by her ailing father/ Rajit Kapoor and involved in a plan that changes her destiny forever but before that she has to go through rigorous training.
In her new abode she keeps dark secrets and courts peril, at times she is victorious and at times vulnerable.
In my opinion there are four reasons for watching Raazi:
Plot – adapted from Commander Harinder Sikka's novel Calling Sehmat the film is set in the backdrop of 1971 Indo Pak war and tells the story of a young Indian spy married to a Pakistani military Officer Iqbal Syed/ Vicky Kaushal so that she can uncover vital information to Indian Intelligence. Understandably it is a marriage of convenience, rather a marriage of dangerous and daunting responsibility.
Treatment- unlike other films within spy thriller genre that focus on operation and explosions and where background music becomes overpowering to instill artificial fear Meghana Gulzar presents her thriller as an emotional story  traveling many intricate relationships.
Detailing – from Delhi to Kashmir and then crossing border to Pakistan, the cultures and dialects of characters fall into place with adequate locations, production design, realistic sets and costumes combined with fitting music from Shankar Ehsaan Loy adding drama to lyrics from Gulzar.
Message – director Meghana Gulzar made her debut with a domestic subject/ Filhaal then moved to a social issue/Talvar and this time addresses a national concern where the take home line is Watan kea aage kuch bhi nahi – the classic all's fair in war even though war disregards life, sacrifice and relationships.
Performances – the casting director does a splendid job because every actor breathes into the character be it Rajit Kapoor/ Hidayat Khan, Arif Zakaria as the Syed housekeeper or Shishir Sharma as army officer. As Iqbal Syed/ Vicky Kaushal and Sehmat's mentor/ Jaideep Ahlawat deliver sincere, heartfelt performances.
Alia Bhatt as Sehmat Khan is pitch perfect be it her multiple activities, body language, expressions or dialogue delivery. In her10 year-old career she has embraced varied characters with clarity and conviction and internalizes the rather complex Sehmat with innocence and courage that goes beyond logic and love. When Sehmat falters, you fear for her, when she crumbles, you weep for her.
I offer unconditional support to Raazi and so must every self-respecting Indian. I rate Raazi with 4 stars.
@bhawanasomaaya