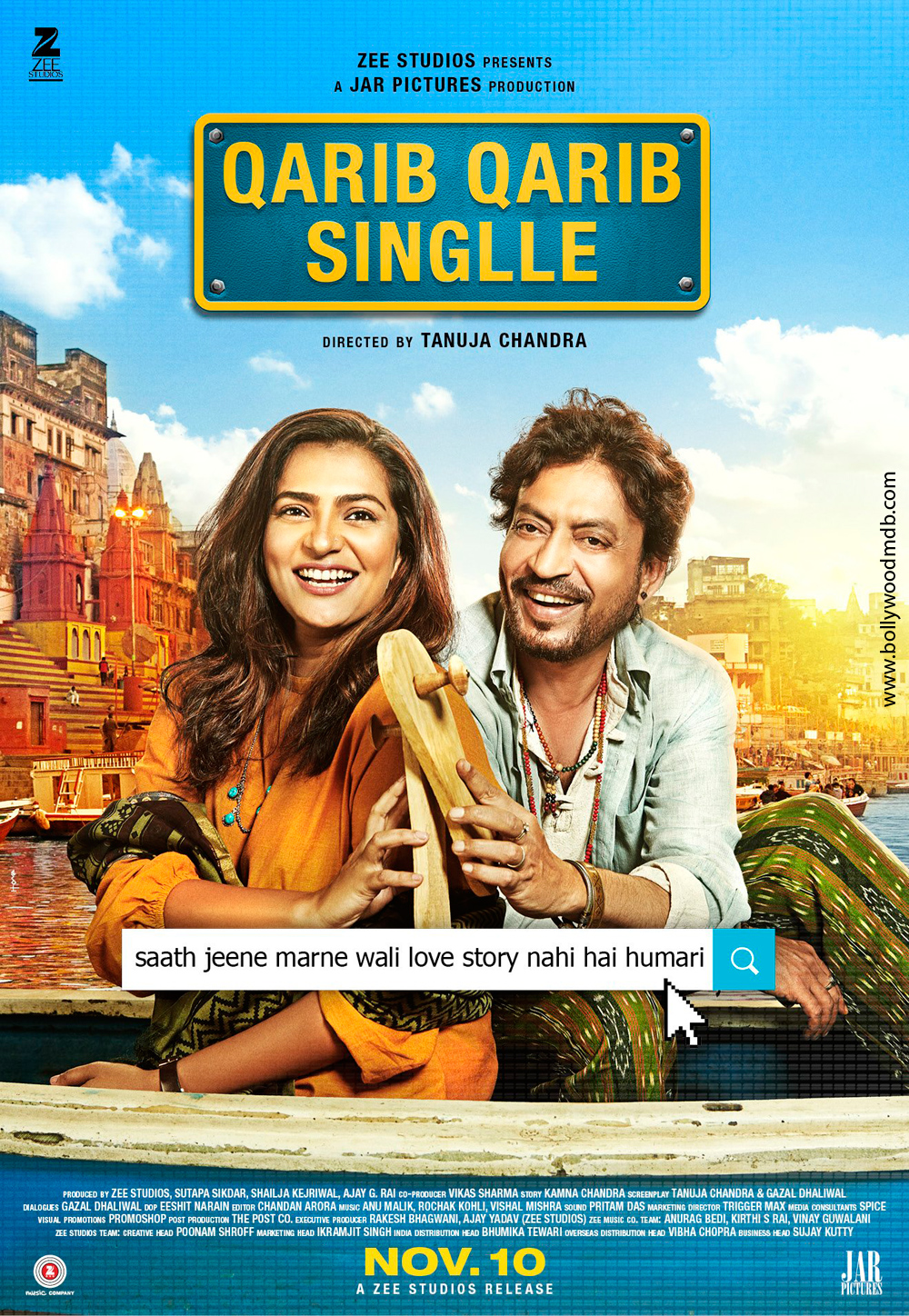 Qarib Qarib Single is almost enjoyable
Film: Qarib Qarib Single
Producer: Zee Studios, Jar Pictures
Director: Tanuja Chandra
Writer: Kamna Chandra
Music: Anu Malik, Rochak Kohli, Vishal Mishra
Cast: Irrfan Khan, Parvathy 
In between advising her mother not to nag her father and pulling up her distracted secretary addicted to an online dating site, Jayshree/ Malyalam actress Parvathy associated with an insurance company finds time to attend the wedding of a friend who introduces her as a widow to her groom.
Though it has been a long time Jayshree lost her husband she has yet to come to terms with her life and when her younger brother defies her to get adventurous, Jayshree logs on to a marriage portal only to be bombarded with obscene responses.
One out of them comes across decent and Jayshree decides to meet Yogi/ Irrfan Khan over coffee. Yogi says he is a mechanical engineer but doesn't seem so from his appearance, attire or conversation. He is informal, over chatty and almost annoying while Jayshree is refined, unduly reserved and visibly uptight.
They have nothing in common but they continue to meet over generous mugs of Latte coffee and on Yogi's insistence the workaholic Jayshree actually considers going on a joint holiday with her new friend
What go in favour of the film are the music and the locations. This short journey travels from Mumbai to Dehradun, then Rishikesh and Bikaner to all the way Gangtok and through the missed flights/ trains and never-ending taxi rides, we are treated to strangers turning friends and sometimes foes.
The downside is the pace gets slow in the second half and the banter between the quarrelling strangers turn repetitive.
There is chemistry between Irrfan Khan and Parvathy and it reflects in their sparkling performances
Qarib Qarib Single has moments, moods, simplicity; it is the kind of film you will enjoy watching with your dating partner.
I rate Qarib Qarib Single with 3 stars.
@bhawanasomaaya