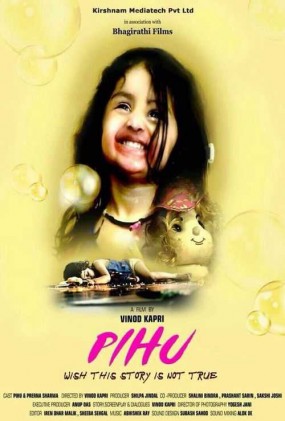 Film: Pihu
Date: 16.11.2018
Director: Vinod Kapri
Cast: Myra Vishwakarma, Prerna Vishwakarma
Editor: Archit Rastogi
The opening credits have a voice over of a birthday party. It is Pihu's second birthday and friends have assembled for the celebration.
In the morning Pihu wakes up lolling on the bed, she shakes up her mother sleeping beside her but her mother is unresponsive
Based on a true incident Pihu is the story of a two-year-old having to fend for herself in a duplex apartment for more than 24 hours without anybody around her.
The camera follows Pihu as she climbs and descends the marble steps of the house, struggles to untangle her pyjamas and sit on the potty unescorted. She is confused about how she is to wash her soiled finger and runs for assistance to her sleeping mother.
When she is bored she juggles with the TV remote and entertains herself. When she is hungry she navigates through the kitchen and locates leftovers from the previous night party.
The 90-minute film is a terrifying journey into a child's misadventures as she fidgets with the gas burners, touches hot iron and gets trapped inside the refrigerator. The worst is when she is in the balcony and her doll drops down and Pihu climbs over the railing to get it back, it is a superbly shot scene!
Myra Vishwakarma is the only actor in the film supported by external sounds like television, telephone conversations and passing neighbour chatter. Crisply edited and sensitively unfolded Pihu works for the treatment and the message of the film.
The story is a sad reflection of urban lonely lives in multi-storied buildings of the metropolis where nuclear families are isolated from neighbours and hopelessly dependent on the building security guard in times of a crisis!
It is a reflection of how technology has facilitated our lives but fractured our relationships. Devoid of intimacy and communication, we have no time and compassion for each other's heartbreaks!
The film fails miserably in the art department.  The apartment is exaggeratedly messy and looks like an overemphasized set. It is impractical how the family survives without any house help. The disorder depicted on the morning after the party resembles is more like the after effect of a drinking night than a child's birthday celebration.
You overlook the flaws because your attention is focused on little Myra. Filmmakers will tell you that it is most difficult to shoot with children and if Myra is so utterly unselfconscious before the camera the credit goes to director Vinod Kapri.
Years ago, Chetan Anand directed a film about a child lost on the streets searching for his mother called Aakhri Khat which brought a lump to your throat.
After watching Pihu you emerge from the theatre with a hollow feeling in the stomach.
Pihu is a must watch for all parents so that they never make the same mistakes. I rate Pihu with 3.5 stars.
Bhawana Somaaya