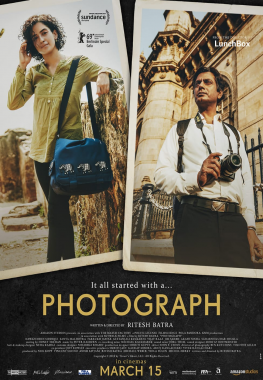 Film: Photograph
Date: 15-3-2019
Writer-Director: Ritesh Batra
Cast:  Nawazuddin Siddiqui, Sanya Malhotra, Farrukh Jaffar
After the award-winning Lunch Box one was looking forward to Ritesh Batra's next and disappointed that it does not live up to our expectations even though like Lunch Box, Photograph is a love story of two lonely strangers in a metropolis.
Rafiq/ Nawazudin Siddiqui is a photographer at the Gateway of India and has a way of tempting tourists to click pictures for memory and convinces Miloni/ Sanya Malhotra, a student returning from a holiday with her family to do the same and she agrees.
He hands over the picture to her but she flees without paying and they lose each other in the crowd. Now both are on the lookout for each other but for different reasons…
Photograph is unlike any other love story where lovers are either rejoicing together or facing opposition together.  Here the hero is always worried and weighed down because he has to struggle for survival, has too many debts to clear and lives in a small room shared with five other friends in a slum colony.
The heroine is forever depressed and there is no apparent reason for this because she lives a comfortable life with her family and is a topper in her class now preparing for her Charter Account exams.
There is no meeting ground between Rafiq and Miloni who come from different backgrounds except the fact that they are both withdrawn and introverted. They meet frequently over tea/ coffee/ cola/sometimes ice candy on the beach. She even agrees to visit his home in the narrow congested lanes and share a hot snack from the same plate. They drive around the city in a taxi, watch a film in a local theatre and get soaked in the rain, they appear happy, well almost.
Two hours pass by with great difficulty…
Director Ritesh Batra says his film is a love letter to the city of Mumbai. I'm certain his actors Nawazuddin Siddiqui, Sanya Malhotra and grandmother, Farrukh Jaffar have grasped that which is why they have delivered sparkling performances.
I failed in grasping the plot, characters or the intention of the love story and therefore rate Photograph with 1.5 stars.
Bhawana Somaaya