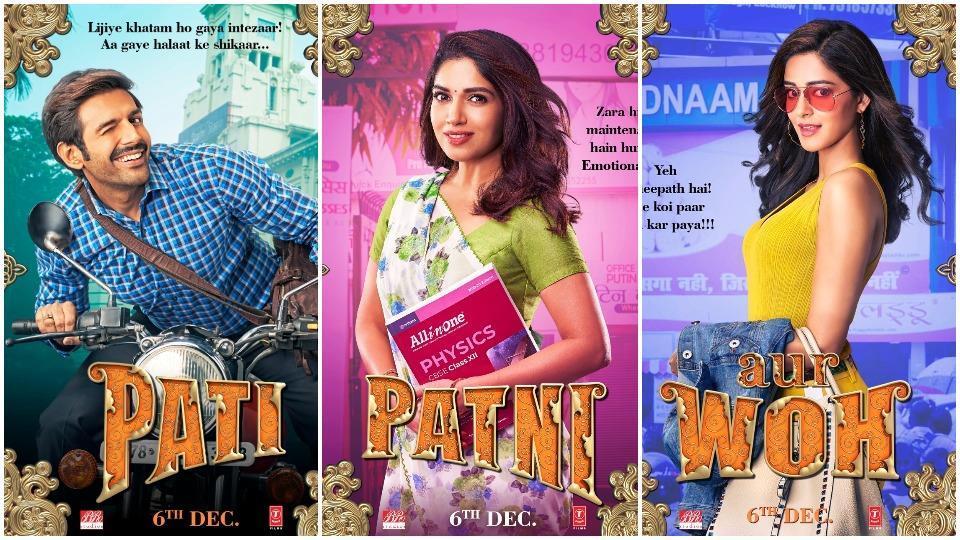 Writer/Director: Mudassar Aziz
Cast: Kartik Aryan, Bhumi Pednekar and Ananya Panday
In the year 1978 BR banner made a film on the subject of an extra-marital relationship called Pati Patni aur Woh wherein the husband/ Sanjeev Kumar did a 9-5 job and returned home exhausted after a long day at work.
The wife/ Vidya Sinha was a regular house-wife and the middle-aged couple was kind submitted to a monotonous routine after a decade of marriage and child until excitement knocks in the form of a personal secretary/ Ranjeeta Kaur. The hero is so fascinated with his fantasy that he does not mind building a castle of lies to sustain her sympathy and in the process slowly begins to lose his heart to her.
Directed by BR Chopra it was unusual in the 70s to address serious matters in comedy genre which is why perhaps the film was path-breaking. Today, 41 years later, BR Films and T Series combine force to repackage the old story in a new bottle, stirred and shaken by writer-director Muddassar Aziz, the only problem is that Aziz follows the original plot with some cosmetic corrections. He changes names/ domicile/ age/ profession of all the characters but not issues or intentions and that is where the film fails to touch your heart.
Adultery may have been a scandal four decades but not anymore specifically if it borders on harmless flirtation. Then pace of life was slow and people had time to listen to each other's woes but in the 21st century with the advent of technology specially mobiles, isolation is bliss and emotion quotient a low priority for all and therefore it is unconvincing that a professional like Tapasya Singh/ Ananya Panday has all the time in the world to hang out with a government officer going on drives and eating pani puri with Abhinay Tripathi/ Kartik Aryan and finally lose her heart to him.
It is unconvincing that Kartik Aryan is bored with his three-year-old marriage because Bhumi Pednekar is not the traditional wife, she has oomph, enjoys sex and encourages flirtation from her students. Also considering that Kartik's boss is more than happy with his performance and he has a friend/ Aparshkti Khurana who is him in all crises, he has no business to be sulking and grumbling all the time.
The biggest drawback is the script with a paper-thin plot packed with sexist jokes and offensive dialogues referring to class and caste. The characters are underdeveloped and the costume designer clearly not included in the script discussion as a result Ananya Panday walks the streets of Kanpur in stelletos and Bhumi Pednekar wears decorative backless cholis to coaching class, do you blame the students for being distracted?
The film talks about the middle class but there are signs of any middle class values in any of the characters and no serious message to impart to the audience either. Everything is superficial and superfluous and all the performances lukewarm except Aparshakti Khurana who never lets you down in any film. To be fair Bhumi Pednekar tries her best but is majorly let down by her costume designer who presents her neither as a wife/ teacher but as a Kanpur Yash Chopra heroine.
The good thing about the film is that it revives memories of the 1978 Pati Patni aur Woh and the magical Sanjeev Kumar. I rate Pati Patni aur Woh with 2 stars.