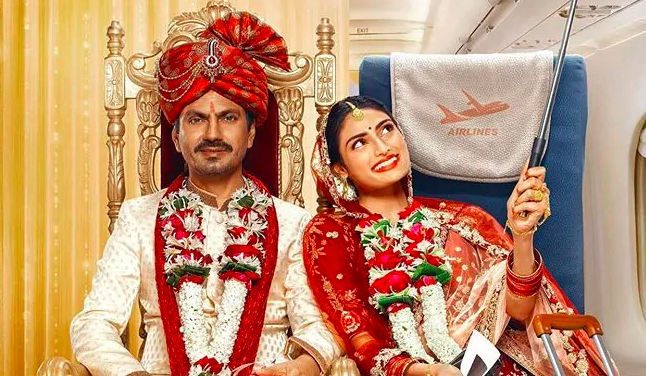 Athiya is the surprise packet
Film: Motichoor Chaknachoor
Date: 15.11.2019
Director: Debamitra Biswal
Writer: Bhupendra Singh/ story, screenplay Debamitra/ dialogues
Cast: Nawazuddin Siddiqui, Athiya Shetty, Vibha Chibber, Navni Parihar
In a meeting organized for an arranged marriage between the two families, the prospective bride in an isolated corner asks the prospective groom if he approves of her. The hero says it is not about approval because all that matters in a marriage is that she is a woman and he is a man. Never heard something so derogatory!.
The film's director Debamitra Biswal had filed a commercial arbitration petition on Bombay High Court which had ordered a stay on the release of its trailer, over non-payment of dues by the makers of the film Woodpecker Movies Private Limited; the stay was later lifted and which is probably the reason why the film got released without adequate promotion.
Set in Bhopal, Madhya Pradesh Motichoor Chaknachoor tells the story of two families who are neighbors. The elder son Pushpinder /Nawazuddin Siddiqui of Vibha Chibber has a job in Dubai and comes home every few years during his holidays. Every time, his mother plans to get him married during his stay but always Pushpinder returns to Dubai single and is today 36 unmarried and desolate.
Anita/ Athiya Shetty, daughter of the other neighbor/ Navnit Parihar is a rebel of sorts who has turned down innumerable proposals because the groom does not match her expectations of settling down in some exotic foreign location. When Ani/ Anita learns that Pushpinder works as an accountant in Dubai she decides to woo the simpleton and fulfill her dream of moving out of small-town Bhopal.
Written by Bhupinder Singh Motichoor Chaknachoor revives memories of 70's parallel cinema when life was simple and relationships uncomplicated. Marriage and relationships were important to our stories then and continue today. This one too is about attraction, attachment and realization and which is why the innocence revives memories of Jaya Bhaduri's Guddi and Uphaaar
The confusing bit for me is that the film is progressive and regressive alternately, for instance, the hero, the heroine and their respective families are obsessed with marriage like being single is a curse. The hero's mother has a full proof plan to absolve all financial crises with dowry obtained from her son's marriage. In a light-hearted scene, an aging widower interested in his neighbor retorts 'How can she be single and busy, strange!'
It is refreshing to watch Athiya take the initiative and not wait for Nawaz to propose to her, interesting that her aunt is single and spunky. The most forward-thinking scene comes from Athiya's father when the married daughter comes home seeking his support. He refuses point blank with 'If you are old enough to plan your wedding you are responsible enough to resolve domestic quarrels'.
Motichoor Chaknachoor addresses marriage, dowry, joint family, community living and also focuses on the artificial world created by the FaceBook culture. Quite honestly there is little to criticize in the film except the over made up mummies who sit at home with full eye makeup. What works about the film is the story, dialogues, lyrics and score by Abhijit Vaghani.
All the performances are convincing. Nawazuddin Siddiqui is as always first-rate but the best performance in the film comes from his screen mother Vibha Chibber reminds you of vintage Dina Pathak. Athiya Shetty after Hero is a complete transformation. She is the surprise packet of the film and proves that it is never over till it is over. Shetty is confident and sparkling!
So must you watch Motichoor Chaknachoor, I'd say eating sweets in proportion has never harmed anybody so why to regret you didn't try this ladoo. I rate Motichoor Chaknachoor with 3 stars.
Bhawana Somaaya