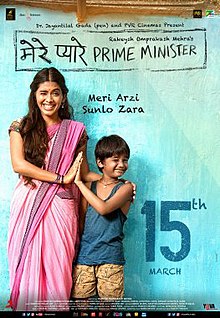 Film: Mere Pyaare Prime Minister
Date: 15.03.2019
Producer-Director: Rakeysh Omprakash Mehra
Writers: Manoj Mairta, Rakeysh Omprakash Mehra, Hussain Dalal
Cast:  Anjali Patil,Om Kanojiya, Atul Kulkarni, Makrand Deshpande
Four little children visit the BMC with a request to build a toilet in their slums. The official tells them that the land occupied by them is illegal and so in the eyes of law they don't exist. 'But we do' shouts back Nirala and his friends.
The official shoos them away, says that if they want to build a toilet they have to write a letter to the Prime Minister, so Kanhaiya (Kannu) writes a letter to the Prime Minister explaining what happened to his mother when she went out in the open to defecate, 'How would you feel if this had happened to your mother?' he asks the Prime Minister.
Kannu and his friends make an adventurous trip to Delhi to hand over the letter to the Prime Minister's Office portrayed by Atul Kulkarni in a superb cameo. Kulkarni is indulgent of the kids and accepts the letter from them. 'Will our work be done' asks Kannu. 'My job is to hand over the letter the rest is left to the system'. 'And where do we find the system?' asks Nirala. The PMO has no answer.
The film is full of such surprises. To perceive a film from a child's perspective is never easy but filmmaker Rakeysh Omprakash Mehra expertly combines the adult and the child world to present a sensitive story of the slum dwellers and  even though there have been many films  recently both on the toilet and the slums, Mere Pyaare Prime Minister stands apart for its message.
There are many touching moments in the film, for instance, Kannu does not understand what has happened to his mother but he understands that this would not have happened if they had a toilet in their surrounding! The sequence where he struggles to build a toilet made out of sari, stones, and bamboos, blown away by fierce wind and torrential rain brings a lump into your throat.
Another long sequence of how files move in bureaucratic offices explains why sometimes justice is delayed but never denied.
Unfortunately, there are some exaggerations too. After an outburst when Sargam asks her son to apologize to the deity Kannu insists that the deity apologizes to his mother for what happened followed by a close-up of Lord Hanuman shedding a tear!
It is a bit far-fetched that three little kids, who have never stepped out of their locality, have no money, embark on a journey to the capital without assistance or guidance. They boldly walk toward the Rashtrapati Bhavan without security or permissions and even take Selfies with the darban there.
They locate the Prime Minister's correct address and create chaos at the gates till they are allowed inside and present the letter to the PMO to return home, safe and sound without any hurdles or hardships.
If you can overlook these exaggerations Mere Pyaare Prime Minister is worth it for the innocence and simplicity, the film brings back your childhood and delivers a strong, social message.
I rate Mere Pyaare Prime Minister with 3 stars.
@bhawanasomaaya