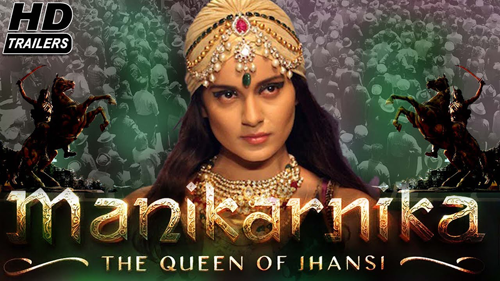 The Queen is back   
Film: Manikarnika -The Queen of Jhansi
Date: 25 January 2019
Director: Radha Krishna, Jagrlamudi, Kangana Ranaut
Cast: Kangna Ranaut, Jisshu Sengupta, Kulbhushan Kharbanda, Danny Danzongpa, Ankita Lokhande
Manikarnika: The Queen of Jhansi chronicles her journey from the place where she grew up, Bithoor to be married to the king of Jhansi, Raja Gangadhar Rao Newalkar /Jishu Sengupta and becoming the Rani of Jhansi who fought a war against the East India Company.
It is a story about Jhansi's royal family and internal politics but mostly about the historical events during 1800.
The first half concentrates on the historical premise and the second half mostly on the battlefield.
A film of this scale is not possible without creative liberties and Maikarnika is no exception. The production design and the sets are exaggerated, the costumes far from authentic and the dialogues though powerful devoid of Maharashtrian dialect. The pace is slow and the special effects not up to the mark.
The merits are the engaging story-telling, the sparkling action, the refreshing characters, and the inspiring message. War stories become a tedious watch after a point but the screenplay effectively balances the battlefield sequences with family conflict and have you gripped. Lyrics by Prasoon Joshi and music by Shankar Ehsaan Loy add to the narrative.
The worst performances come from the British characters who come across as caricatures, except Sir Hugh Rose. The supporting cast comprising Kulbhushan Kharbanda, Danny Denzongpa/Ghaus Khan, Ankita Lokhande/ Jhalkaribai, Atul Kulkarni/Tatya Tope are competent but have no roles except Jishu Sengupta who makes an attractive king.
There is a softness to the film that extends to relationships, environment, and animals, an altered gaze where the king wears bangles not because he is effeminate but because he wants to remember that he has not vanquished his enemies. The queen fights on the battle with her baby strapped on her back because it is the safest spot for the prince in the palace.
Kangana Ranaut looks delicate but exhibits enormous strength. From her introductory scene to the finale, Kangana has you mesmerized with her regality and erect posture. She rarely raises her voice but her presence is overpowering. Her gaze is never lowered and the tear expertly controlled to never drop from the eye, not even when she is soaked in blood and bathed in the fire!
This is easily Kangana Ranaut's best as an actor and impressive debut as a director.
I rate Manikarnika: Queen Of Jhansi with 3 stars.
Bhawana Somaaya