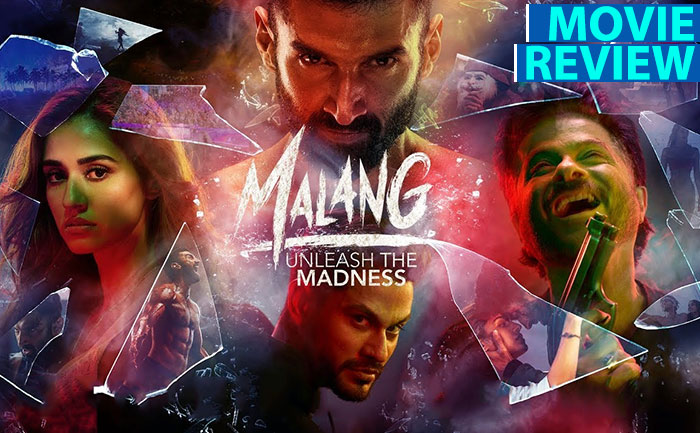 No Mazaa
Film: Malang
Release: 07.02.2020
Director: Mohit Suri
Writers: Aseem Arrora/story, Aniruddha Guha/ screenplay
Cast: Aditya Roy Kapur, Disha Patani, Anil Kapoor, Kunal Khemu
You either like thriller movies or you don't and if you do, then you have an appetite for all thriller genres. Director Mohit Suri clearly enjoys making thrillers and has made an image for himself weaving intrigue and mystery into complex stories projected by complex characters be it Raaz or Murder 2.
His focus has always been relationships/ Wo Lamhe or Half Girlfriend and heaps it with family conflicts, personal insecurities, emotional drama and haunting melody. This time because the base is Goa he indulges in rave parties, alcohol, drugs, new friends, new love, adventure and loads of excitement!
Malang-Unleash the Madness is the story of Christmas night when a criminal/Aditya Roy Kapur recently released from jail calls a senior cop/Anil Kapoor and warns him of his murder plans. The first half meanders endlessly, is dull and scattered, the second half picks up in pace and action but fails in emotional connect. There are four gruesome murders and before that violent scenes packed with kicks, punches, pistol firing, torture and encounters!
Everything is cold blooded and mechanical, the dialogues are ineffective and the narrative does not engage you, even the music is disappointing except the remix score 'Aaj ki raat koi aane ko hai' that builds drama to some extent. Vikas Sivaraman's cinematography is seductive and yes, the climax has some surprises.
Disha Patani as Saara suits the part, Aditya Roy Kapur has a new image of an action hero after Aaashiqui, Kunal Khemu is promising and Anil Kapoor as always steals the show.
In a party scene, Jessie, a drug dealer asks Saara, 'Tumhe mazaa chahiye ya sukoon?' Saara chooses mazaa but after watching Malang I am certain that I not visiting Goa for a long, long time. Now the choice is yours, if you want mazaa you can book your tickets for the film but if you want sukoon, please stay miles away from Malang.
I rate Malang with 2 stars.
@bhawanasomaaya