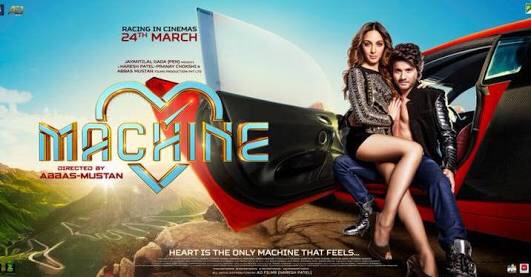 Date: 17 March 2017Producer: Pen Movies, Abbas-Mustan
Director: Abbas-Mustan
Cast: Mustafa Burmavallah, Kiara Advani
Rating: 1.5 stars
Sanjeev Kaul written and Abbas Mustan directed Machine falls into the regular formula of Abbas-Mustan glossy thrillers. But there is a difference, unlike his brave Baazigar and the hilarious Baadshan, the daring Ajnabee and the shocking Aitraaz all entertaining films because of the energy and music is sadly missing in his latest venture Machine.
There are ample reasons for this. : First and foremost, the senseless story and the even more meaningless dialogues. In his most romantic moment the hero tells the heroine he will spoil her lipstick but will never smear her eye makeup, whatever that means.
Granted this isn't drama subject so one has no expectations of histrionics, but to serve an un-engaging narrative devoid of any sense or sensibility in the excuse of a thriller is being over ambitious.
It is not just the plastic covered sofas in a swimming pool facing den that is jarring but every character young and old and every relationship is shallow, offensive and damaging.
The music is a major let down, it is difficult to believe that Abbas Muustan are the same directors who gave us the foot tapping Khiladi and the melodious Soldier this time, choose to rely on vintage chartbusters and the effect is just not the same!.
The lead pair is lack lustre. Kiara Advani looks and acts like Esha Deol and new face Mustafa Burmawallah is clearly not made for the arc lights.
One does not expect a social message from a thriller but that does not mean it can be abusive of humanity and relationships. In content and message Machine is illogical, insensitive and irresponsible!
So is there nothing worth watching in Machine of course there is, the film has exotic locations, Kiara Advani is draped in glamorous costumes, there are fancy cars and exciting races. Should one watch Machine , you can provided someone else is spending for the ticket.
I rate Machine with 1.5 stars.