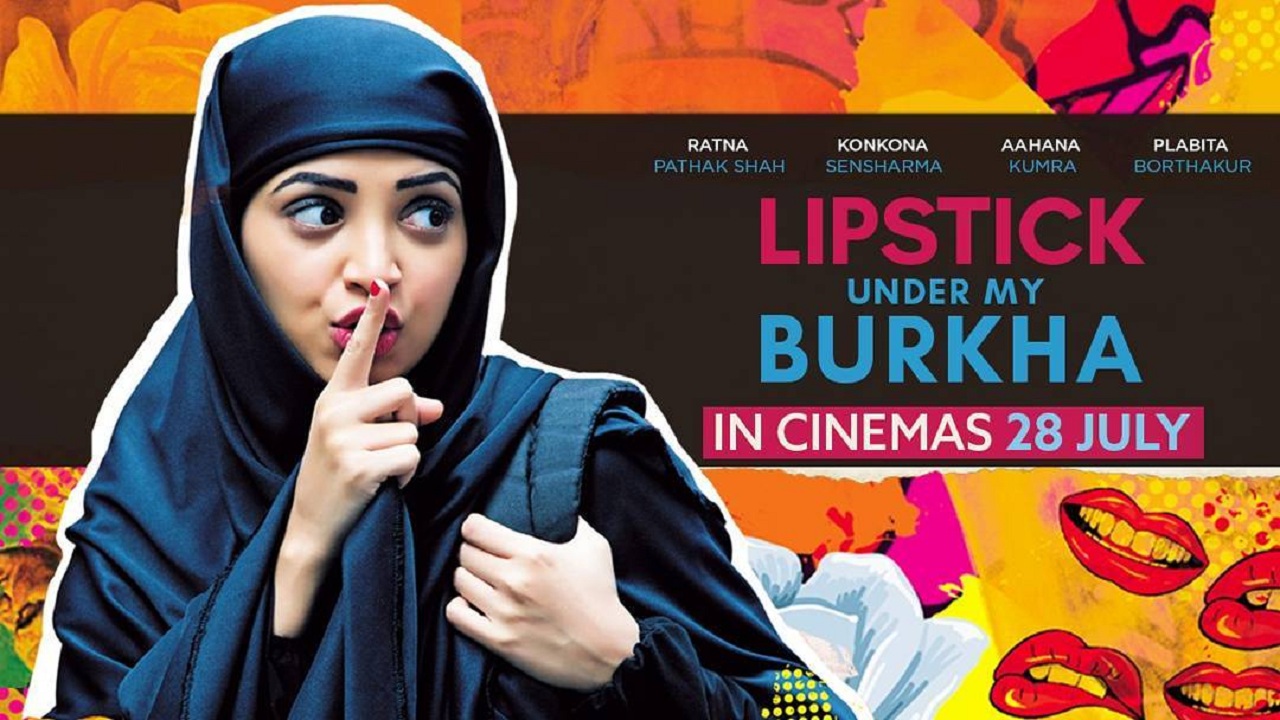 Film: Lipstick under my Burkha
Date:   21 July 2017
Writer/ Director: Alankrita Shrivastav
Stars: Ratna pathak Shah, Kokona Sen Sharma, Aahana Kumra and Plabita Borthakur
Ratings: 3 stars
Alankrita Shrivastava's Lipstick Uunder My Burkha has been in the headlines for some time because of its ongoing battle with the CBFC. Set in the crowded by-lanes of small town India, the film chronicles the secret lives of four women in search of passion and dreams.
The oldest is the land lady of Hawa Mahal Ushaji/ Ratna Pathak Shah a middle-aged widow who spends all her free time reading erotic novels, as a result, finds herself attracted to her young and handsome swimming instructor. Suddenly Ushaji feels the need to look attractive again. Shireen/ Konkona Sen Sharma, mother of three boys who juggles her responsibilities with a secret part time job as a sales woman. Her husband works overseas and the only time he meets her is in the night in the bed.
Leela/ Aahana Kumra is the owner a beauty parlor, she is madly in love with her photographer friend and wants to explore the world but it is not that simple.
Plabita Borthakur's college going Rehana has aspirations to become a pop singer and leads a dual life till she is ruthlessly exposed.
What works in favor of the film is that Shrivastava travels you into the crowded by lanes and gives you a glimpse of people's lives and sufferings. For the kind of oppression, all of them go through Lipstick Under My Burqa could have been a dark, depressing film but Srivastava elevates her characters as free willed women and portrays their perils as humorous anecdotes.
Using lipstick as a metaphor the director comments on female sexuality, abuse in marriage and power play of parents in lives of unmarried daughters.  She addresses small town aspirations, peer pressure, and consumerism. In the climax, all of them come together not to mourn their loss but to move on with their lives and dreams superbly shot with fire crackers in the background.
The negative of the film are minor exaggerations necessary for the narrative which can be overlooked. All the performances are sparkling – Ratna Pathak Shah as the buaji living her sexual fantasies is both entertaining and vulnerable.  The always dependable Konkana Sen portrays scenes from a marriage while Aahana Kumara and Plabita the live wires reflect the angst of the youth.
Shot mostly in mid close Lipstick Under My Burqa is bold and intimate ready to challenge the patriarchal society. I rate Lipstick Unser My Burqa with 3.5 stars