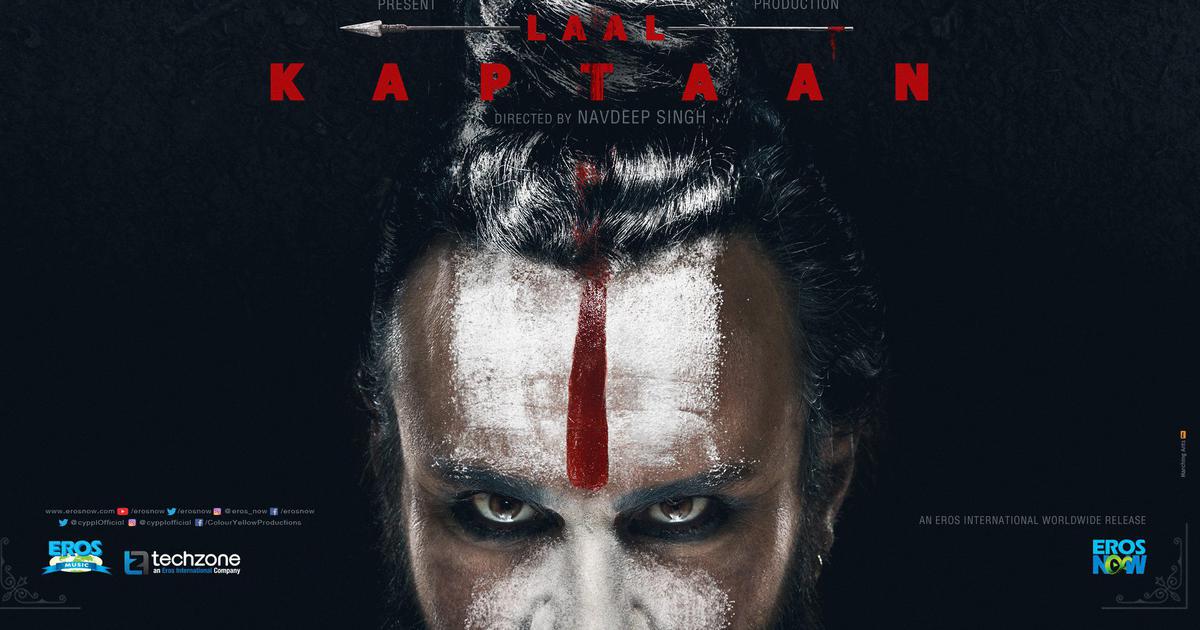 Slow and repetitive
Film: Laal Kaptaan
Date: 18.10.2019
Director: Navdeep Singh
Cast: Saif Ali Khan, Manav Vij, Deepak Dobriyal, Zoya Hussain, Simone Singh
For some strange reason Eros and Color Yellow, producers of Laal Kaptan have decided to release the film without any promotions. Unfortunately, the only news that made headlines about the film is that Saif Khan's styling is borrowed from Pirates of the Caribbean and which provoked Saif to clarify that the Naga Sadhu, the dreadlocks, the bandana, and his ash face, even the red jacket comes from the East India Company.
And there is a reference to the jacket in a scene where the British soldier while beating him up wants to know where he robbed the uniform from. There are many intriguing moments…
The begum/ Simone Singh desires the blessings of Laal Pari for her newborn and even though her husband/ Manav Vij is not a follower of such faith, he escorts his family to the faraway location where the mystic meditates in an isolated cave. We discover that Laal Pari is wrapped in Black fabric and rolls her eyes upwards before communicating with her devotees.  She sticks out her tongue to reveal that she has a black tongue before she makes any predictions and everything she says comes true!
Laal Kaptaan is the story of what happened in the 18 century in Bundelkhand. There are many ways to describe this epic drama. You can say it is the aftermath of Buxar battle, the story of a unique and multi-cultured nation, a story of a family or just a story of passion and revenge. What is disappointing is that all these tracks put together combined with backstories don't serve an engaging narrative!
There are some films that grab your attention from the very beginning, some get you involved in the narrative slowly but gradually and there are some that merely build your expectations and don't deliver till the end. Laal Kaptaan falls in the last category where characters wander aimlessly from one desert to another, one ruin to another seeking revenge and creating mayhem!
After every stomach-churning action sequence that usually ends in a line of dead bodies you expect some revelation but the mysteries take ages to resolve and you are drained before the interval. The main culprit is the uninvolving screenplay. The characters though interesting cannot hold your attention because the pace is exceedingly slow and the information imparted painfully repetitive.
It is never easy to make a period film and shooting in the ravines calls for different challenges. There is no doubting the intent and courage of director Navdeep Singh and his creative team shooting in such difficult circumstances. The technical team is first-rate specially the cinematography, the production design, and the action. It is a well-cast film introducing refreshing faces.
Zoya Hussain is photogenic and effective so what if she wears kohl in her eyes even in the ravines. Deepak Dobriyal in his cowboy hat and homemade shoes has the best role in the film and it does not matter that his hat never gets torn or blown away in the wind despite many travels and battles.
Saif Ali Khan has always ventured out of his comfort zone to experiment with new characters and he does it this time as well.  There is a character graph in his portrayal of Naga Sadhu and it is consistent and detailed.
So must you watch Laal Kaptaan, well only if you like horses, guns, dust, soldiers, ruins and Western movies,  if not then save your time and money for Diwali cleaning and shopping.
I rate Laal Kaptaan with 2 stars.
Bhawana Somaaya