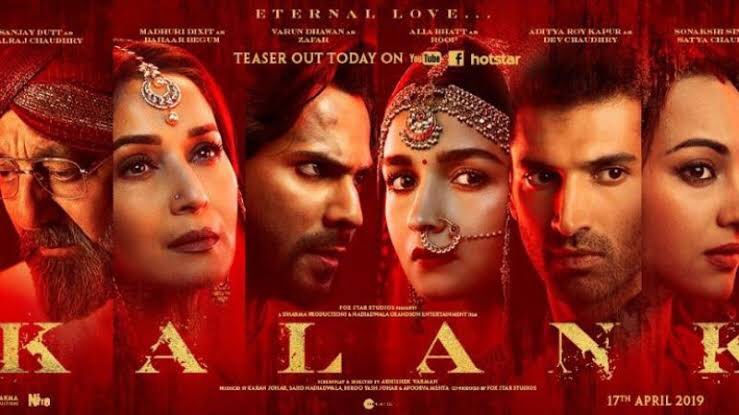 Watch it for Varun and Alia
Film: Kalank
Date: 17 April 2019
Director: Abhishek Varman
Writers: Abhishek Verman, Shibani Bathija
Cast: Sanjay Dutt, Madhuri Dixit, Sonakshi Sinha, Aditya Roy Kapoor, Varun Dhawan, Alia Bhatt, Kunal Khemu
Ratings: 3 stars
The heroine while offering her hand to the hero before getting on to the boat says, "I am married" to which the hero responds "So when did I say I was proposing to you". The communicationis provocative for a love story set in 1940 in a buzzing town called Husnabad, near Lahore, a few years before the Partition of India and Pakistan,
Through lotus filled ponds and much fun and frolic on the streets, director Abhishek Varman introduces us to the Muslim working class and the affluent Hindu family on the other side of the stream. The Chaudhrys – Balraj/ Sanjay Dutt and his son Dev/ Aditya Roy Kapoor are publishers of a liberal newspaper called The Daily News.
Dev's wife, Satya Choudhary/ Sonakshi Sinha is diagnosed with a fatal illness so looks for a bride who will adequately fit into the mansion and her husband's life after she is gone. Satya optsfor the spunky and educated Roop / Alia Bhatt who agrees to the contract but sets her conditions. Roop is relieved when Devgrants her space and uses her freedom to explore the city.
She is attracted to music emanating from Bahar Begum/ Madhuri Dixi's palace every night and expresses desire to learnfrom the courtesan. The family is alarmed but she is adamant and frequently visits the tainted address where she meets a volatile and bitter Zafar/ Varun Dhawan whose only mission in life is revenge.
There are some films you remember for the story, some for thetreatment and some only for the characters. Kalank falls into the last category that elaborates on interpersonal relationships, their misgivings, pressures and unfulfilled dreams.
The problem with the film is it is too long (2 hours 48 minutes)and not of everybody's temperament. It fails miserably in trying to create a period drama. The production design is faulty and the opulent sets and flowing costumes embarrassingly unauthentic. The biggest letdown is the choreography, a pity that the combined efforts of four ace choreographers cannot come up with a single dance that touches our heart.
What works for the film are dialogues, music, lyrics, casting, cinematography and some social issues. The little colour that creeps into the characters comes from the majestic star presencebe it Sanjay Dutt in a special appearance, a quiet Aditya Roy Kapoor and a subdued Sonkshi Sinha.
Madhuri Dixit is always dependable but this time she is deprived of an opportunity to shine in a scene or a song and that's a bigbig letdown.
Varun Dhawan yet again proves that he can juggle action/ romance/ dance/ drama, his chemistry with Alia Bhatt lights up the screen when they are together.
Alia Bhatt is sparkling yet again and lends her innocence and simplicity to Roop in a manner that is touching. Roop is educated and makes her own decisions. She is married, not a captive and exercises her freedom of choice in career and love.
Kalank ventures into a surreal world and views love in a poeticmartyred way, it is up to you if you approve of this tainted poetry or get impatient with it but it is worth a dekho for Alia Bhatt and Varun Dhawan for sure.
Bhawana Somaaya