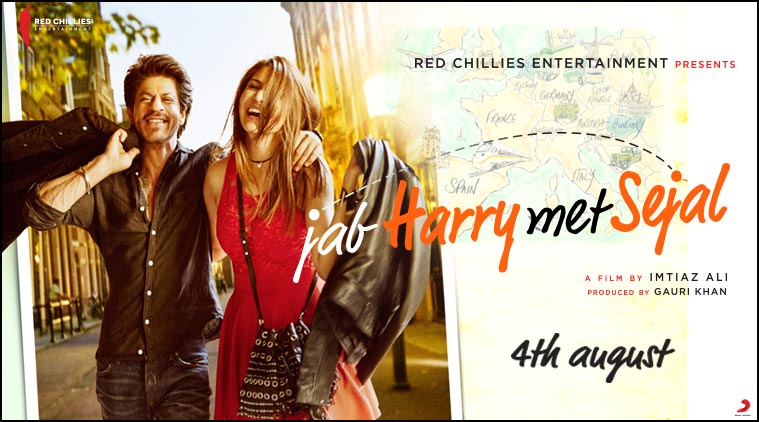 Film Review: Jab Harry met Sejal
Date: 04 August 2017
Producer:  Gauri Khan
Director: Imtiaz Ali
Cast: Shah Rukh Khan, Anushka Sharma
Rating: 3.5 stars
Harry/ Shah Rkh Khan is a tourist guide and is so exhausted of being charming on duty all the time that he cannot wait for the trip to come to an end  so that he can kick his heel and chill out.
He has bid farewell to the last guest, chucked his tourist badge and is on his way to have some fun when he has a problem waiting for him in the name of Sejal/Anushka Sharma.
Sejal has cancelled her ticket back home because she has lost her engagement ring and needs to find it ASAP but cannot without the help of Harry who is reluctant to be her guide all over again.
The ring is a metaphor that what you seek is actually seeking you, so a trip that begins in exasperation gradually blossoms into the memorable experience for both Harry and Sejal.
It is said that traveling is the best way to know a person and Sejal discovers that Harry is lonely and fighting his demons while Harry discovers that beneath her fragile exterior Sejal is strong and empowered.
There is no earth shattering message in the film nor is there any refreshing angle to the love story because there's nothing new about love anyway. It is the new characters, their situations, problems and perils that bring new intimacy and absorbs us in a story and which is what happens with Jab Harry met Sejal.
What works about the film are the Europe locations, music, cinematography and natural dialogues.  What does not is the predictable and impractical second half. A thought crosses your mind.  For the amount of money Sejal spends in looking for the ring she could have purchased a new one but had she done that there would be no story and no Harry meeting Sejal.
While the film breaks gender stereotypes that good girls are boring because Sejal is good and adventurous or that boys don't cry because Harry is complex and vulnerable, it conforms to prejudices like Punjabi's are loud and Guajarati's speak with accent.
Overlooking these minor flaws there are three reasons for watching Jab Harry met Sejal: First, director Imtiaz Ali who creates magic out of ordinary moments, second, Anushka Sharma who unfailingly strikes a special relationship with all her characters and finally, Shah Rulkh Khan for getting us in a romantic mood once again.
I rate Jab Harry met Sejal with 3.5 stars.