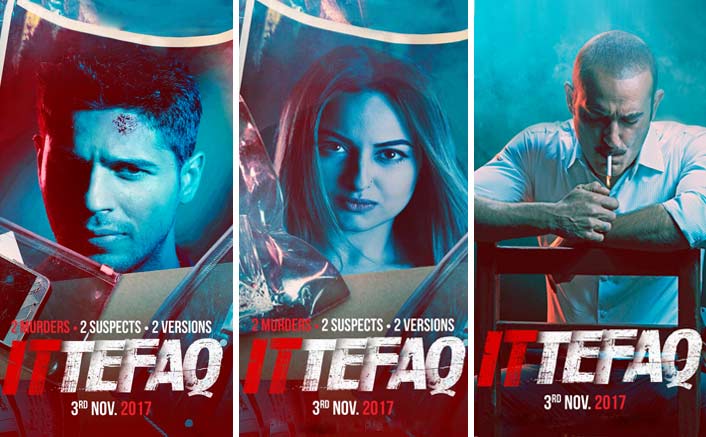 Film: Ittefaq
Release: 03 November 2017
Director: Abhay Chopra
Cast: Sidharth Malhotra Akshaye Khanna Sonakshi Sinha
Music: BT, Tanishk Bagchi
There is a story how original Ittefaq came about. BR Chopra was shooting Aadmi aur Insaan when his heroine of the film, Saira Banu fell ill and had to go abroad for urgent medical treatment.
Chopra didn't want to sit idle for so long and on a friend's suggestion went to watch a Gujarati play Dhummas based on a 1965 American murder mystery film Signpost Murder.
Chopra was impressed with the production and decided to make a film and was ready with the script the following week itself.  He cast newcomer Rajesh Khanna because he wanted to shoot immediately and got Nanda whose dates were available.
Ittefaq was released without songs and if I am not mistaken without an interval.
Now almost 48 years later, BRChopra's grandson Abhay Chopra repackages the old premise to present Dev (Akshaye Khanna), a police officer, investigating a double murder case that has two witnesses and two prime suspects. First, Vikram/ Sidharth Malhotra, an acclaimed author, and Maya/ Sonakshi Sinha, a homemaker, both have different narratives about the fateful night and one out of the two is speaking the truth.
Abhay Chopra unfolds his story over three rainy days in Mumbai city and the narrative mostly comprises interrogation with the two suspects and reading between the lines. The downslide is the slow pace. The writing fails to build tension and grip you to the narrative.
The 1969 Ittefaq was path-breaking laced with sparkling performances from the ensemble cast. 2017 Ittefaq is left to a superlative Akshaye Khanna to hold fort. A devastatingly good-looking Siddharth Malhotra puts his best foot forward which cannot be said about Sonakshi Sinha who is poorly let down by the script.
The old Ittefaq was about deception and raised moral and social debate, so does the new one. Out of the two murders, two suspects and two , how do you determine the right from the wrong?
I rate Ittefaq with 2.5 stars.
@bhawanasomaaya