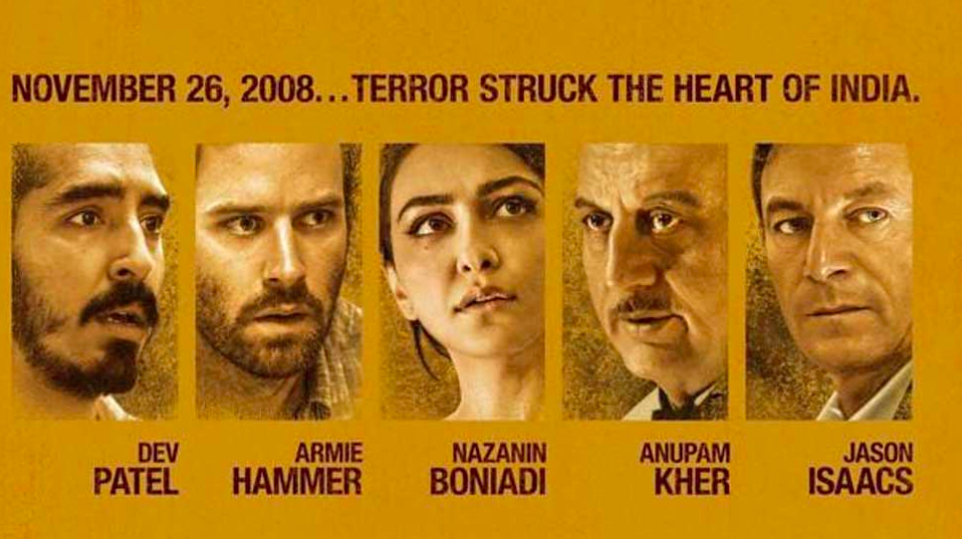 Watch if you can relive the nightmare
Film: Hotel Mumbai
Date: 29.11.2019
Director: Anthony Maras
Writer: Maras, John Collee
Cast: Dev Patel, Anupam Kher, Armie Hammer, Nazanin Boniadia
Hotel Mumbai is an Australian–American–Indian co-production inspired by the 2009 documentary Surviving Mumbai tracing the 2008 Mumbai attacks at the Taj Mahal Palace Hotel in India.
Shot in Australia and in India, the film has had its share of controversies. It was pulled from cinemas in New Zealand due to the Christchurch mosque shootings on 15 March 2019, later Netflix was set to distribute the film in India and other South and Southeast Asian territories but at the last minute Netflix opted out after a contractual dispute arose with Indian distributor Plus Holdings.
Almost a year after being premiered in Toronto, Australia and the United States, the film is set to release in India.
In broad daylight boat sails across the shores to Mumbai city and a group of youngsters hop out into the buzzing city, hail taxis and head for their mission to three different spots – Chatrapathi  Shivaji Terminus, Leopold Café and Taj Mahal Hotel.
The scenes revive memories of a tragedy we have all endured and tried to forget. When the city was under siege burned and Delhi delayed sending a special force to aid Mumbai police and in the bargain many lives were lost and many policemen turned patriots.
Today, 11 years post the nightmare Hotel Mumbai opens up old wounds that still fester, is it appropriate for a foreign crew to make a film on this subject? The answer is subjective. It is not the first time we are watching a film on horrific incidents and yet because it involves us a country, viewing Hotel Mumbai was not easy. I was uncomfortable sitting in the auditorium and sensed rage, pain, fear around me as the events unfolded on the big screen for 2 plus hours.
There are other reasons why I cringed in my seat. The film does not reveal the background of the terrorists until the end, why? It does not make any reference to Laskar-e-Taiba and does not point out to Pakistan till the concluding scene during the end credits.
Maybe it is all meant to be subtle and not screamed out, that is the problem when we combine fact with fiction, there are too many creative liberties to make the narrative palatable. On the plus, I will say the sound/ production design and the cinematography is outstanding. All the performances are convincing, Armie Hammer, Nazanin Boniadia and more, your heart goes out to the hostages. Anupam Kher as Hemant Oberoi lends dignity to the character and Dev Patel as Arjun breaks your heart.
So must you watch Hotel Mumbai, only if you have the nerves to go through the nightmare again then book your tickets?
I rate Hotel Mumbai with 3 stars.
Bhawana Somaaya