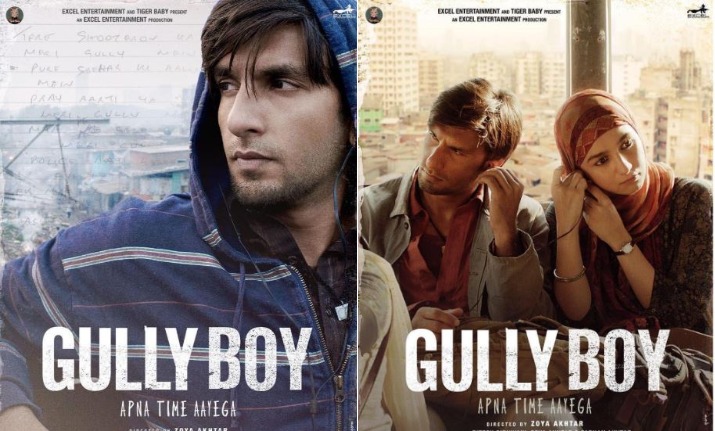 Proud of you Gully Boy
 Film: Gully Boy
Release:  14.02. 2019
Director: Zoya Akhtar
Writer: Zoya Akhtar, Reema Kagti, Vasundhara Koshy (Script Supervisor)
Cast: Ranveer Singh, Alia Bhatt, Kalki Kochlin, Vijay Raaz
On a dark, lonely street, a young man in a hood walks slowly; he stops by a car, smashes the window and drives away with the vehicle. He knows it is a criminal offense but in the given situation, it is the only option.
Zoya Akhtar's Gully Boy establishes that sometimes deceit is inevitable to follow your dream and perhaps morality depends on circumstances.
After Luck by Chance/ 2009, Zindagi Na Milegi Dobbara/ 2011 and Dhil Dhadak Ne Do/ 2015 Akhtar tells the story of Divine, a street rapper as a fiction not a biopic and takes many cinematic and liberties to make the narrative engaging.
What makes Gully Boy endearing is that it is simple and truthful and therefore touches your heart. Every character is fondly etched out balancing their strengths and vulnerabilities, they inhabit a believable world and what's special is that the director empathizes with each one of them.
The Dharavi slum has been an object of attraction for filmmakers over the years even though shooting there has never been easy and yet international filmmakers have come back to it unfortunately to glamourize the underprivileged and their compelling situations in Asia's largest slum.
Gully Boy is the first film to not associate Dharavi with the standard images of garbage/ filth/ long queue for water, crime, and dance bars and instead look for new emotions and stories within their world.
So we have the hero Murad live with his large joint family in a bathroom size home divided into four sections. He attends college in the morning, meets up friends in the evening and at night when everyone falls asleep hops onto the roof of the house and pens songs.
In Dharavi, everyone lives in cramped spaces but they have king size hearts, their pockets are most often empty but their eyes brim over with dreams!
Gully Boy is India's first Rap music film composed by Shankar-Ehsan-Loy, more than a dozen songs are created by 50 plus musicians, lyricists including Javed Akhtar, Divine, Ankur Tiwari and songs from different singers including Ranveer Singh's Apna Time Aayega which is making waves.
There is a haunting quality to Doori by Javed Akhtar and Divine and also Jeene Main Aaye Maza written and sung by Ankur Tiwari interestingly shot in Mumbai at night. With Murad mentored by Sher, we learn about beat, rhythm, synchronization, discover that best songs are stories about personal life!
The story extends to Murad's interpersonal relationships, dreams, deprivations, and touches upon many uncomfortable issues like marital abuse, deceit, protest. The world created by Akhtar and her co-writer Reema Kagti is devoid of inverted snobbery and discriminations. Their gaze is non-judgmental and decisions dictated by conscience. In a scene, Murad's illiterate friend asks him to take him to his English speaking parties. Here success does not isolate but nurtures the winner. The same friend magnanimously frees him of guilt when he visits him at the police lock-up, a superb scene.
The director shares special chemistry with her actors and it is reflected in their performances. The supporting cast comprising Murad's friends, his father / Vijay Raaz, his mother/ Amruta Subhash, his singer friend MC Sher/ Siddhant Chaturvedi and partner Sky/ Kalki Kochlin are first rate.
As the hijab-wearing Safeena who plays Murad's childhood sweetheart, Alia Bhatt is mesmerizing. A medical student Safeena is a captive in her home deprived of small joys like wearing lipstick and partying with friends. Still, she is cheerful most of the time but when oppression overpowers, she breaks down and you cry with her.
Ranveer Singh's Murad is severely repressed and this reflects in his body language. Watch him emote with his eyes downcast as he swallows insult after insult. He has learned to contain his frustration and music is the only meditation that can calm him down.
After the larger than life Bajirao, Padmavat and Simmba, Gully Boy is Ranveer Singh's quietest and bravest performance where he is stripped off all his vulnerabilities. So many images haunt you long after the film is over…
Murad's first recording as the camera draws closer and closer on his face… His disdain when the foreign crew invades their privacy as if they don't exist…When Murad waits his turn at the contest and when he sings the anthem song in the final show.
There is an interesting sequence of how the name 'Gully Boy' was coined and became the voice of the youth. Zoya Akhtar walks the street with the Gully Boy exposes you to new sounds and beat.
Intense, engaging and truthful Gully Boy is a must watch for the young and the old. I rate Gully Boy with 4 stars.
@bhawanasomaaya