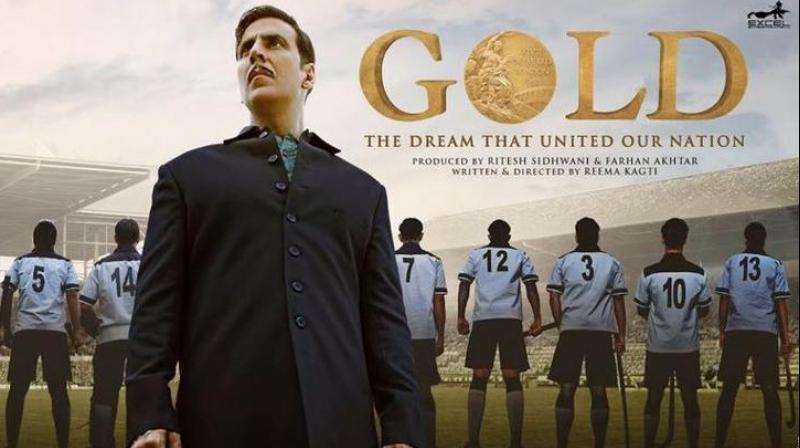 Film: Gold
 Date: 15.08. 2018
Director: Reema Kagti
Story-Screenplay: Reema Kagti & Rajesh Devraj
Dialogues: Javed Akhtar
Cast: Akshay Kumar, Mouni Roy
Excel produced Gold is the story of an iconic moment in Indian history when Germany and British India played hockey finals at the Berlin Olympics and defeated the Germans in 1936.
The victory is meaningless for the team because they cannot hoist the Indian flag and therefore determined to come back and represent a free India.
But dreams die hard and as the World War II spread discontentment and devastation Tapan Das/ Akshay Kumar supporter of hockey becomes a wastrel and a hustler drowning in alcohol.
His heart beats for hockey however and when he reads about the forthcoming Olympics he wastes no time to prepare his team.
1947 celebrates free India but independence comes bathed in bloodshed and the hockey team is divided into India and Pakistan.
Now Tapan Das has to build a new team all over again and there are too many obstacles and challenges but come Olympics 1948 and the Indian hockey team fights to win yes, but also to overcome the British legacy of slavery of 200 years.
The positives of the film are the characters, the dialogues, the art design and to an extent the music.
The negative is the length and the pace but the climax more than makes up for the fluctuations.
Still the performances are praiseworthy. Vinet Kumar Singh as Imtiaaz, Amit Sadh as Prince Raghubir and Sunny Kaushal as Himmat Singh deliver with precision. Mouni Roy as Akshay's better half is spunky and sparkling and sexy too, Roy revives memories of vintage Sharmila Tagore.
Akshay Kumar is effortless as the manager cum talent scouter and is given ample opportunities to romance and dance. Gold is one more feather in his long list of socially relevant films.
Director Reema Kagti inspires national pride without being jingoistic; she refrains from overemphasis and does not remotely resort to Pakistan bashing. Through subtle scenes, in the green room and on the playground Kagti makes you teary-eyed without being dramatic.
Gold is a story of a nation, of sports, of team spirit, of conviction and most important, of dreams. Time was when women filmmakers only made films only about women, today their gaze includes the universe which is reflective of how much India has changed.
Gold is a worthy watch for all families on Independence Day.
I rate Gold with 3.5 stars.
Bhawana Somaaya