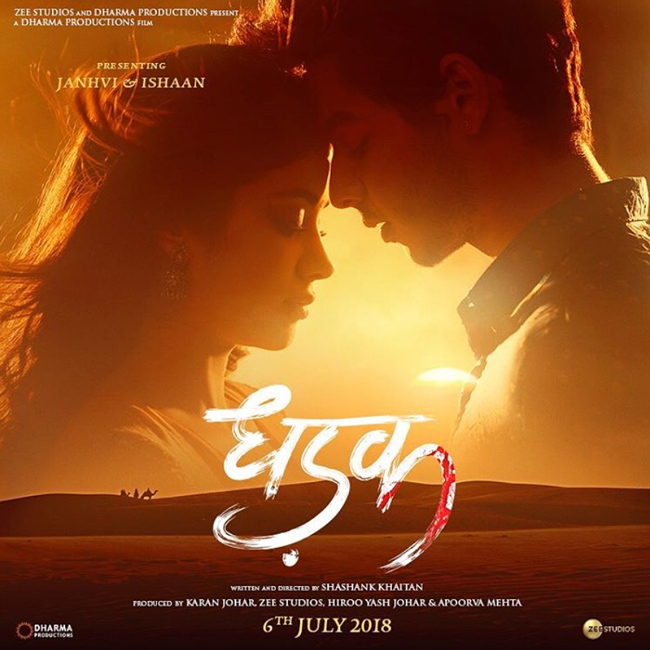 Film: Dhadak
Writer/ Director: Shashank Khaitan
Cast: Janhvi Kapoor, Ishaan Khatter,Ashutosh Rana
Music: Ajay-Atul
'I love you' says the girl while the boy stares without blinking, 'now you say it' demands the girl. The boy lowers his eyes, says he feels shy but the girl will not give up until he has uttered the three words. Shashank Khaitan directed Dhadak is the official remake of the iconic Marathi film Sairat now being adapted into several Indian languages.
Set in the picturesque Udaipur, Dhadak is the love story of an upper caste Parthivi/ Janhvi, daughter of a rising politician Ratan Singh/Ashutosh Rana and Madhukar/ Ishaan, son of a middle-class restaurant owner.
The fatal attraction between Parthivi and Madhukar spells doom not just for the lovers but their families and friends and the only solution to the growing outrage and despair is escape and isolation.
As the protagonist's journey from Udaipur to Mumbai to Nagpur to finally settle down to an anonymous existence in Kolkata their problems only multiply and gradually both lose courage and breakdown alternately but there is no way out now.
The positives of the film are the unconventional characters, the girl is the initiator in the romance and when obstacles arise she assumes moral responsibility for her beloved.
Music composers Ajay-Atul who had the viewer's dancing inside the theatres in the original repeat the magic in Dhadak ably supported by John Stewart's haunting background score and Amitabh Bhattacharya's heart-rending lyrics.
The negatives of the film are primarily the comparisons with the raw, rustic and hard-hitting Sairat shot in real locations and often with real people without the slightest fuss or frills.
Dhadak is mainstream, contemporary and unapologetic about opulent hotels; stunning landscapes, designer costumes, and styling that don't alter even after the couple hits desperate times.
There is a special chemistry between the lead pair, Janhvi is vibrant and effective and Ishan is intense and energetic with myriad expressions in his eyes.
Director Shashank Khaitan who has so far flirted with Badrinath / Humpty Sharma ki Dulhaniya for the first time steps into a darker zone and addresses deep-rooted prejudices in our society and most of the time follows the original template barring a few alterations as in the climax. If Sairat stunned you with its ending Dhadak will leave you numb in the cinema hall.
Watch Dhadak without the baggage of Sairat, watch it with your family particularly teenage children because there are many lessons to be learned from this.
I rate Dhadak with 3.5 stars.