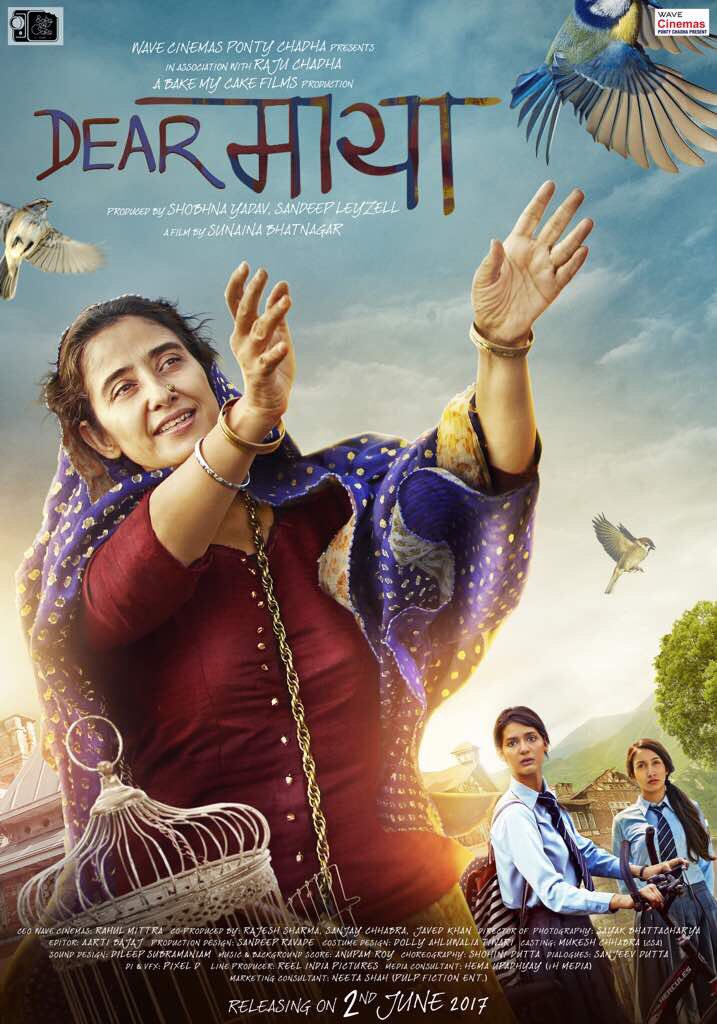 Film Review: Dear Maya
Date: 03 June 2017
Director: Sunaina Bhatnagar
Cast: Manisha Koirala, Madiha Imam, Shreya Chaudhary
Rating: 2.5 stars
Maya lives in a sprawling mansion layered with cobwebs and not aired in years, she spends her day in the company of two dogs, one caretaker and many birds. Her neighbours in Shimla have never seen her in the courtyard or in the market. She spends her day stitching cloth doll, paints unsmiling faces and then ominously drapes them up in black shawls.
Anna a 9th-grade student at Loreto School is Maya's adjoining neighbour and lives with her parents. Anna is insanely curious about Maya Devi's intriguing past and shares minutest details with her friend Irra and the two of them come up with a plan to spice up Maya Devi's drab life.  Their intention is noble but the plan misfires and the result are damaging!
Writer/ director Sunaina Bhatnagar has the ability to draw up unusual characters and dress them up in magical moments. Like Maya loves trees, plants, animals and birds but is allergic to people, crowd, noise, even sunlight. All the relationships in the film are special and writer very quietly and succinctly travels you into a world of roses and love letters, where passion reigns and hearts tremble.
The story travels from Shimla to Dilli and in a span of seven long years a lot changes in the life of Maya Devi, Anna and Irra. The film addresses many complex issues besides loneliness and deprivation. It mirrors complexity in friendship and most important, highlights a fast disappearing virtue in contemporary times called a ticking conscience.
All the performances – Anna's parents, her Delhi boyfriend, her Shimla friend Irra are effortless and realistic. As Anna/ Madiha Imam enjoys the longest screen space and is a treat to watch her emote uninhibitedly.  Imam is wonderful when she cries, fights, laughs, sulks or romances.
Monisha Koirala portrays Maya Devi with alarming honesty.  Here is a performance completely devoid of vanity. When she is defeated, you feel suffocated and when she smiles, the skyline changes. There are immortal moments you carry home from the film. When she opens the stubborn windows and soaks in the sunlight. When she arrives in the big city and is forced to experiment with new cuisine. When she enters a store and pampers herself for the first time.
Part in Hindi and part in English, a wee bit new and a lot old world Dear Maya is a bit strange but a fragrant offering of present times. If you've been feeling low and want to change your perspective of life, drop a letter to Maya. I don't need to share the address. It is showing at your neighbouring theatre.
I rate the upbeat Dear Maya with 2.5 stars.