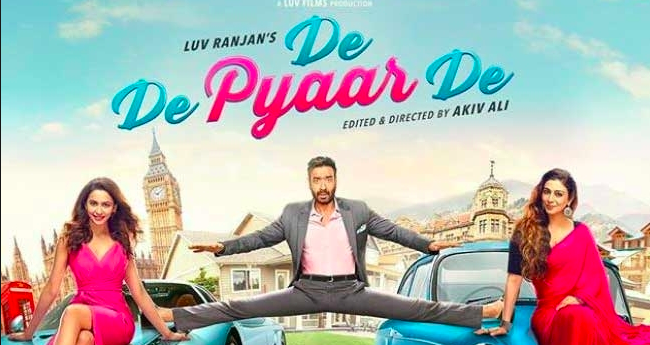 There's more to love than age
Film: De De Pyaar De
Release: 17.05.2019
Director: Akiv Ali
Writers: Tarun Jain- Luv Ranjan
Cast: Ajay Devgn, Tabu, Rakul Preet
'Stop!' screams Tabu in a crucial scene when the family blames Ajay Devgn for everything in the household.  'When a marriage fails only the couple knows what went wrong and if their children become inheritors of their assets they have to assume responsibility for their parents' follies too.'
On the surface, a frothy, spunky romance De De Pyar De on a deeper level is an anatomy of attachments.
The first half explores a flirtatious attraction between a 50-year-old businessman Ashish/Ajay Devgan and the 26-year-old engineer Ayesha/ Rakul Preet. They meet at the wedding of a common friend and go on several dates to romance in picturesque London. Initially, it appears to be a love story of a generation gap but post interval, when the hero travels his young beloved all the way to India to meet his separated wife/ children/ parents; you discover that this is a story of a dysfunctional family.
What works about the film is the lighthearted treatment, the humorous narrative, witty dialogues, delightful characters, their complexities, circumstances and leads into song situations. Sharply edited and maturely handled De de Pyaar De  delves on deep, delicate, raw, ripe and forever changing relationships portrayed by a team of able actors like Javed Jaffery/Sameer  Jimmy Shergill/ VK and the best of them all, Kumud Mishra/ Atul.
We have watched Ajay Devgn do daredevil action/ Singham and also slapstick comedy/ Golmaal, this time he is in a romantic and responsible mood. Ajay plays roles that suit his age and performs effortlessly.
While Tabu shines in her three important scenes –with the family/ with Ajay and with Ajay's love interest, she brings a smile to your face in her lighter moments. Rakul Preet Singh who made her debut in Hindi films with 2014 Yaariyaan followed by the number of South films is a revelation; she is not only beautiful but also a competent actress.
In 2011 writer Luv Ranjan presented a postmortem of love in Pyaar ka Panchnama, now in 2019 Ranjan redefines rules of romance
Attraction, flirtation is natural and should not be resisted.
If there is love, age is irrelevant; in fact difference in age should be celebrated.
Family drama is part of life and every family has loads of it.
If sex is not loved then sex cannot be the reason of breakup either!
Passion overrules every obstacle.
I rate De De Pyaar De with 3.5 stars out of which half a star is reserved for breaking rules.
Bhawana Somaaya/ @bhawanasomaaya