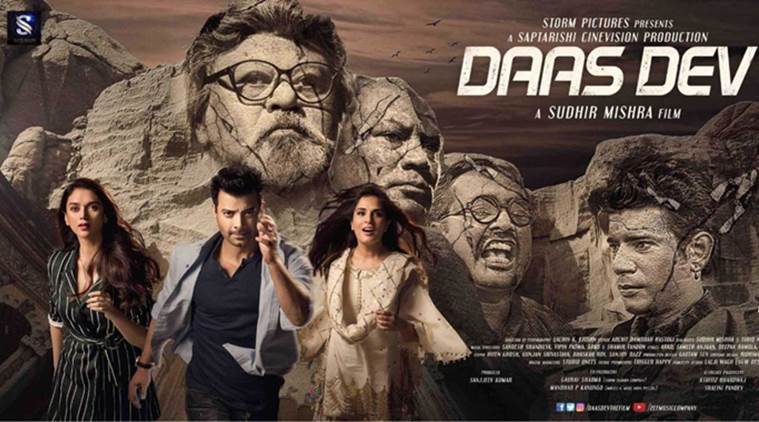 Film: Daas Dev
Date 27 Aril 2018
Director: Sudhir Mishra
Cast: Richa Chadda, Aditi Rao Hydari, Rahul Bhat. Saurabh Shukla.
Music: Vipin Patwa, Sandesh Shandilya, Arko Pravo Mukherjee,Shamir Tandon, Anupama Raag.
Little Dev is hiding near the pond, puffing a cigarette behind the bushes, soon little Paro joins him and insists on trying a puff as well or she will complain about him to his parents.
In a way the scene sets the tone for the irreverent take of Sarat Chandra Chattopadhyay's classic.
In the 105 years of Indian cinema Sarat Babu's novel Devdas has captured the imagination of several filmmakers in several languages.
If K L Saigal immortalized the character pre-independence, for the independent nation Dilip Kumar is the hero they hated to love in Bimal Roy's version and Shah Rukh Khan film-maker Sanjay Leela Bhansali's portrayal of Devdaas in the new millennium.
There were some who did not use the characters but based the story on the same relationships like Prakash Mehra's Muqadar ka Sikander and Anurag Kashyap's over the top Dev D.
Now writer director Sudhir Mishra comes up with yet another version as Daas Dev. The modern hero embraces not just alcohol but all the possible vices – drugs, lust, power and violence.
Unlike the original hero, Daas/ Rahul Bhat, is not an escapist far from irresponsible. He is committed in relationships and not a wastrel, which is refreshing.
Richa Sharma/ Paro and her family do not live across Dev's home as in Sarat Babu's book but inside Dev's magnificent mansion in a two and half room donated by Dev's family.
Paro is haughty and unafraid. In an interesting twist of a memorable scene in the original, this time it is not Paro but Dev who visits her chamber at midnight and it is no big deal!
Eventually she marries an older man/ Ram Ashrey and for the sake of justice jumps into the cesspool of politics.
Chandni/ Aditi Rao Hyadri unlike Chandramukhi is not just twinkle toes but a big player in the dangerous game.
Sarat Chandra's Devdas was about love and yearning. Sudhir Mishra's Daas Dev is about power and ambition.
What is attractive about the film is the irreverent interpretation. Dev is volatile, complex but also vulnerable.
On the flip side the film is unusually long and unnecessarily violent. Every frame is dark and depressing and poetry of prominent writers play as background score in almost every scene which is oppressive.
The actors try their best to engage you with their performances but the politics dominates every emotion. This is not a story about love and longing rather it is about deception and betrayal.
Don't know about the others but I think I have had enough of the UP politics, the guns and the cuss words.
Watch Daas Dev only if you are interested in UP politics
I rate Daas Dev with 2 stars.
@bhawanasomaaya