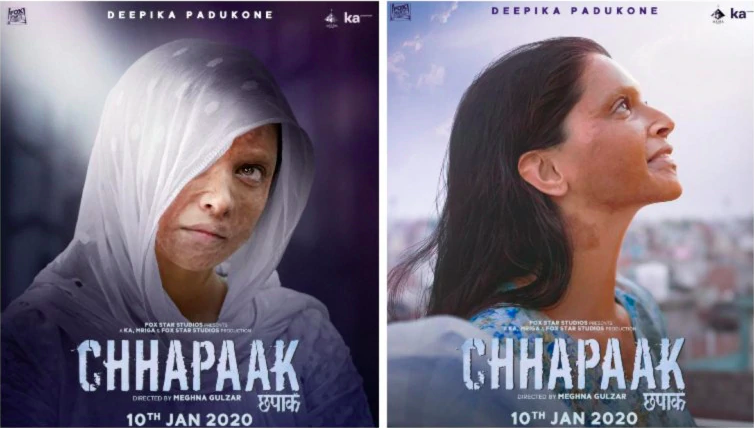 Sensitive, Positive, Upbeat
Film: Chhapaak
Date: 10.01.2020
Director: Meghna Gulzar
Writer: Atika Chohan- Meghna Gulzar
Cast: Deepika Padukone, Vikrant Massey and Madhurjeet Sarghi
Ratings: 3.5 stars
All it takes is a minute to splash acid on another person and the damage is irreparable.
Inspired from the life of Lakshmi Agarwal director Meghna Gulzar with co-writer Atika Chohan chronicles the story of an acid victim and the repercussions thereafter. The film opens in Delhi's Mayur Market where the accident occurs in broad daylight in the presence of many. A good man summons an ambulance and also informs the victim's parents about her hospitalization but while life moves on for others it comes to a standstill for Malati/ Deepika Padukone and her family.
Chapaak addresses IPC Section 307/ Attempt to murder and IPC 326/ Punishment for acid attacks. In a somber moment Malati reflects how nice it would be if acid wasn't freely available because then nobody would purchase it nor fling it. The thought translates into a PIL to stop sale of acid filed by Malati's thoughtful lawyer/ Madhurjeet Sarghi.
If the acid victim feels isolated in public spaces/ bus stop or coffee shop we are to be blamed. A little child on the street looks up at Malati walking on the street and he is terrified! Another older boy bullies Malati's adolescent brother to flee saying 'Go the ghost waits for you at home', vicious!! The disabled in our society are subjected to discrimination every day, be it neighborhood or job interview like the employer interviewing Malati asks why her accident is not mentioned in her bio-data.
What works about the film are the crisp dialogues, the music, the casting, and the inspiring lyrics. The downside is the slow pace, surprisingly low emotion quotient, and an unenergetic screenplay.
A heart-wrenching story of a woman fighting the Session Court/ High Court/ Supreme Court and undergoing frequent police investigations and multiple painful surgeries should have torn us apart, it does not! Probably because Malati herself never breaks down or maybe because the director deliberately ducks any display of indulgence is it self-pity or self-praise. It is a character-centric film but the camera does linger on to the protagonist, she is always part of the frame that is inclusive of other characters in the narrative.
There is a quiet about Malati's persona, a restraint that binds her to her parents/ employer/ lawyer and later her attractive colleague Amol/ fabulous Vikrant Massey who shares special chemistry with his co-star. For an actor, her face is her weapon and when Malati has no residue of eyes-ears-nose left on the face, she connects with her breath and voice. Chhapak is Deepika's most subdued and also the most difficult performance to date.
It is Meghna Gulzar's most courageous film and powerful message that the poison brews in the head and the heart before it is flung through the bottle. Every day, when all of us leave home for work our mothers say 'Take care' to which we don't pay attention. It is time we do so that no more Lakshmis and Malatis are subjected to heinous violence.
I rate the sensitive, positive and upbeat Chhappak with 3.5 stars.
@bhawanasomaaya