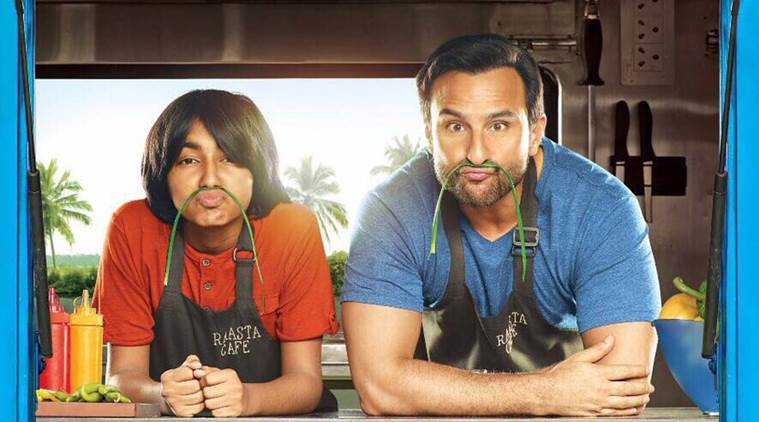 Film: Chef
Release: 06.10.2017
Director: Raja Krishna Menon
Music: Amaal Mallik
Cast: Saif Ali Khan, Janki Raman
You discover Chef Roshan Karla/ Saif Ali Khan suffers anger management issue when he  bashes up a customer in the restaurant for criticizing his food.
After one night in the lockup Roshan is fired by his boss and decides to head home to Cochin, India to spend quality time with his son in custody of his divorced wife.
The film is an official remake of 2014 American film Chef directed by Jon Favreau where the entire focus was on the making and the presentation of food, a big seduction for food lovers.
In the adaptation, the filmmaker adds Asian spices of family drama and drastically alters the original taste of the recipe.
The first half is unusually slow and repetitive. The second half comparatively more energetic and funny in segments as well but the end is a foregone conclusion.
What works in favor of the film is Amal Mallik's music, Kerala's exotic locations, leisurely boat ride and the ancient cottages. The message of the film is live for the moment and the hero most certainly does!!
There are some films you watch for the story, some for performances and some for the mood. Chef falls in the last one.
A guest appearance from Milind Soman and Malyalam actress Janki Raman paired as Radha are refreshing casting. Saif Ali Khan as always gives his best and is equally convincing as a carefree father and as the chef expertly chopping and cooking in the kitchen.
Chef is certainly not Khan's best recipe but it is edible, I mean watchable if you are a Khan fan or better still a food fan. I rate Chef with 2.5 stars.
@bhawanasomaaya