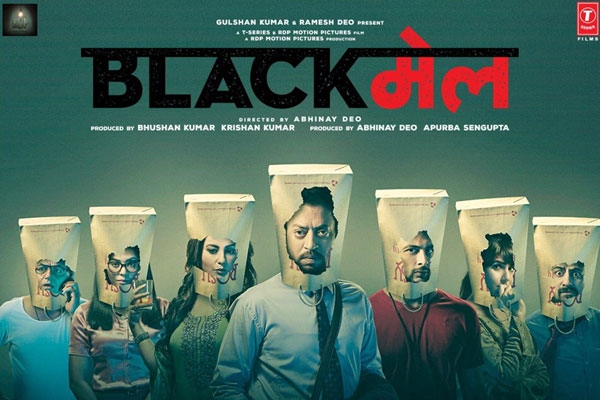 Film: Blackmail
Date: April 06.04.2018
Producer: T series & RD Productions
Director: Abhinay Deo
Writer: Parveez Sheikh/ Screenplay, Pradhuman Singh Mall/ Dialogues
Cast: Irrfan Khan, Kirti Kulhari, Divya Dutta, Arunoday Singh, Omi Vaidya
Dev/ Irrfan Khan on the surface appears a normal man at a normal job of a sales executive with a toilet brand paper. He leaves his home at the allotted time and spends 12 hours by the clock at his work station. He returns home late every night, microwaves his dinner and falls asleep.
As the story progresses you discover that Dev is not as uncomplicated as he seems. He has strange toilet and bedroom habits and is forever lost in his thoughts. He is visibly unhappy and on the advice of his colleague Dev decides to add spice to his life and surprise his wife but is in for a big surprise himself!
The positives of the film are the plot, treatment, humor, music and refreshing writing. This is the first time a subject like blackmail is treated as a black comedy and the result is both hilarious and disturbing.
The negatives are the slow pace and the lose editing. All the characters are weird and self-centered including Kirti Kulhari's old and ailing parents.  We all know that the universe is made up of strange characters and we meet the oddest bunch – Kirti Kulhari, Arunodaya Singh, Divya Dutta, Omi Vaidya in Blackmail.
The weirdest of them all is the middle age/middle class Irrfan Khan dragging feet in a loveless marriage and a mundane job only so that he can pay off his EMI loans.
In the 2 hour 29 minute film, you travel a web of lies, deceit, ambition and extreme greed. As the complex characters grope with self-created calamities, you are a witness to their shallow world devoid of emotional intimacy and self-worth.
The supporting cast is spectacular and Irrfan Khan as always embraces his character and makes him relatable. The real hero of the film is director Abhinay Deo who repeatedly thinks out of the box be it the cult Delhi Belly 2011  or the sensational  TV series 24. This time Deo exposes  middle-class aspirations in a metropolis where everyone is in the rat race for money!
Blackmail is filled with laughter but like all bitter truths of life it is dark and disturbing.
I rate Blackmail with 3.5 stars.
Bhawana Somaaya/ @bhawanasomaaya