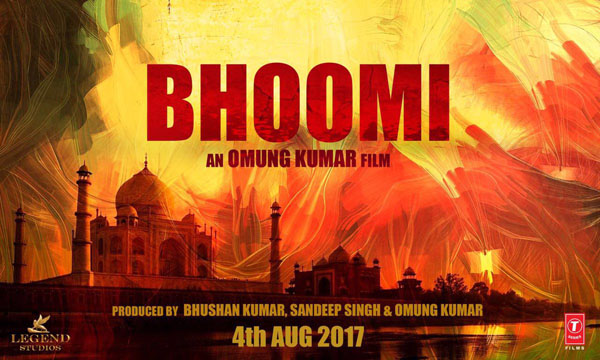 Film:Bhoomi
Date:  22 September 2017
Director: Omung Kumar
Writer: Sandeep Singh/ story, Raaj Shaandilyaa/ screenplay
Music: Sachin-Jigar/ songs, Ismail Darbar/ background
Starring: Sanjay Dutt, Aditi Rao Hydari, Sharad Kelkar
After Kaabil, Maatr and Mom, Bhoomi is the year 2017's fourth film on the subject of rape and revenge.
In Kaaabil it was the husband seeking revenge for his disabled wife, in Maatr and Mom the mothers seeking justice for their daughters and now Bhoomi has a father/ Sanjay Dutt settling scores with his daughter/ Aditi Rao Hyadri's oppressors.
In Dholpur, a small town in Agra, Amar/ Dutt is famous for his shoe shop where foreigners visiting the Taj Mahal often stop by for shopping. Amar's friend/ Shekhar Suman works in his shop by the day and in the evening they share a drink while Amar's daughter, Bhoomi, a wedding planner is busy organizing mehandi/ sangit and shaadi for her clients.
A night before Bhoomi's wedding she is mysteriously kidnapped, drugged and gang raped inside an empty movie theatre where the big screen plays a violent film. The wedding is called off and a pall of gloom falls over Amar and his daughter. With time both try hard to move on but it is not easy and the father-daughter decides to jointly fight the demons.
The treatment is a replay of the 80s cinema where scenes are over dramatized and emotions unnecessarily stretched. The writing is clichéd without any surprises and the climax unforgivably regressive with reference to shraad and devi puja.
Director Omang Kumar who started as an art director over dresses his interiors which have no continuity with the exteriors. Packaging social issues, slogans and statistics don't make a sensitive film. The court room scene where the lady lawyer advocates her case and announces the victim characterless is disgraceful and the placement of Sunny Leone's item number soon after the interval pathetic!
Sharad Kelkar is effective as the chauvinistic villain and Aditi Rao Hyadri looks beautiful when she is happy or sad but the film finally belongs to Sanjay Dutt who returns to arc lights in a role that suits both his age and image.
Watch Bhoomi only if you are a fan of Sanjay Dutt or Aditi Rao Hyadri.
I rate Bhoomi with 2 stars reserved only for Dutt and Hyadrri.
@bhawanasomaaaya