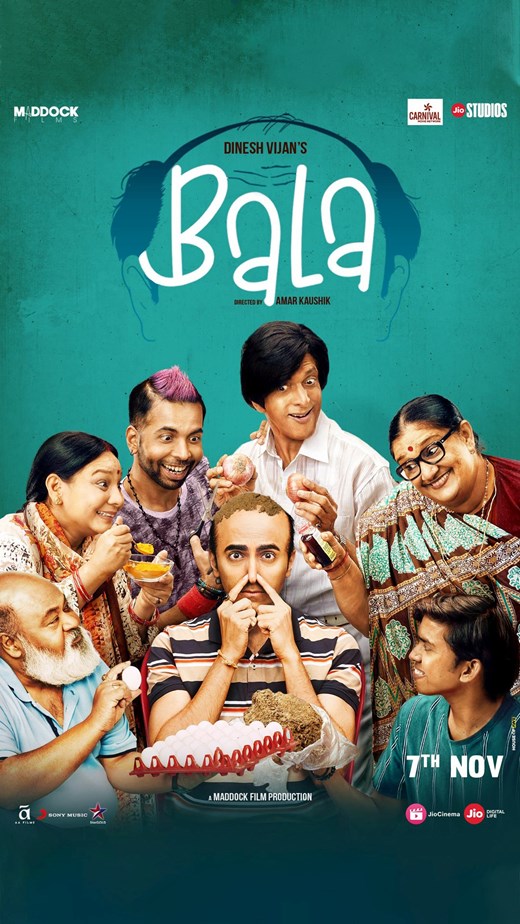 Appearance obsessed
Writer: Niren Bhatt
Music: Sachin–Jigar
Cast: Ayushman Khurana, Bhumi Pednekar, Yami Gautam
There are all kinds of people in the world and Bala is a story of three such families, rather three distinctive characters, two residing in Kanpur and one based in Lucknow.  Bala/ Ayushman Khurana works as a sales executive with a beauty brand during the day and in the evening operates as a stand- up comedian. He never the house without a cap on his head because he has a receding hairline and is hyper sensitive about the way the looks.
Latika/ Bhumi Pednekar is Bala's neighbor and classmate. She is sharp tongued and dark skinned and Bala often pokes fun about her appearance but she never allows him to get away with it. Parri/ Yami Gautam is a super model and spends all her time shooting or in between uploading music videos on Tik Tok.
Parri's mother played by Deepika/ Sita of Sagar's Ramayan gives maximum importance to good looks. Lakitik's aunt is focused on finding a liaison for her niece and has no qualms of misleading the prospective groom with photo shopped pictures of Latika.
Bala's family wants Bala to be happy and inspire him to be transparent in all his relationships.  He does most of the time and when he does not he has a good reason for it.
When an individual goes through a drastic appearance transformation and it is permanent it has adverse effect on his personal life, relationship, work place and most important, his family. There is a scene where Bala's younger brother Rihaan has a long pent up outburst that unsettles the family. In another equally effective scene Bala lashes out at his father Saurabh Shukla holding him responsible for his present plight, a very bitter moment between the father and son. Both these scenes are superbly written and superbly performed.
The thing about satirical comedies is that they make you laugh and worked up all at the same time. Amar Kaushik directed Bala packages wholesome entertainment combined with serious social issues. For instance, Bala views himself as a victim while Latika who has faced discrimination since childhood has no complaints against life and is therefore a successful lawyer today.  Parri is accustomed to a lot of attention only because she is attractive and is unapologetic about it.
All the three characters advocate diverse arguments and that is the intention of the film to make you think and to accept our own follies as well as follies of those around you.
In the year 1964 in a film called Main Bhi Ladki Hoon mein, starring Meena Kumari's family is disapproving of her only because she is dark skinned and she complains of her plight in a song to Lord Krishna. Forty-five years later, we are still obsessed with colour of the skin and physical appearances, the only difference being that while Meena Kumari cried her woes to Krishna, Bhumi Pednekar of Bala confronts the deity of the purpose behind transforming the hunchbacked Kubja into a pretty woman because she was fine as she was.  I agree, we are all fine as we are and what is important is that we must accept and love ourselves.
Bala is about self-confidence, about identity and must be watched for the treatment, humour, emotion and courage of all the actors particularly Ayushman Khurana.
I rate Bala with 3.5 stars.
Bhawana Somaaya