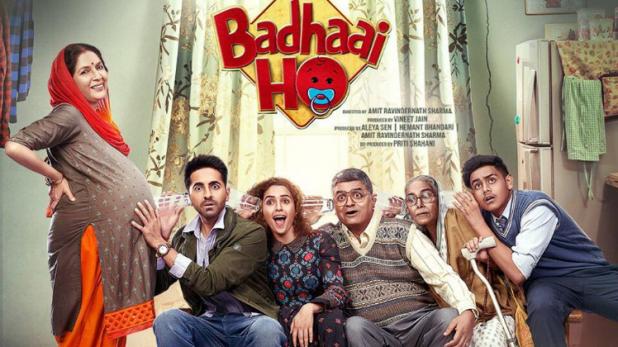 Film: Badhai Ho
Date: 18.10.2018
Director: Amit Ravindernath Sharm
Writers: Akshat- Jyoti- Shanatanu/ Story, Akshat Ghildial/ Screenplay, dialogues
Cast: Neena Gupta, Gajraj Rao, Ayushman Khurana, Sanya Malhotra, Surekha Sikri
There are types and types of films, some films make you laugh, some make you cry, some entertain, some elevate and enrich you and some make you feel good but once in a while comes a film that makes you smile, choke and go back home singing.
Badhai Ho falls in that category and there are 5 reasons for watching this film:
Reason 1: The Subject: In so many decades of my writing on cinema I have never encountered a story as delicious. The idea is terrific and completely original and I will not be surprised if it is from a personal experience of the writer. A lot of filmmakers often come up with very exciting ideas but not all of them are able to translate that on screen, Badhai Ho is an exception because it connects to your soul.
Reason 2: The Treatment: The posters reveal it is a family story but this is clearly not the regular family drama or a mainstream masala and what makes it unique is the treatment.  It by-passes all the predictable lanes of genres, shot taking or story-telling as the camera has you hooked to an amazing narrative assuring that there is not a dull moment.
Reason 3: The Writing: A novel subject penned by three writers – Akshat, Shantanu and Jyoti and polished to perfection with the minutest detail and insightful dialogues by Akshat Ghildial. The film unravels two romances, introduces to two families, engages two cultures and travels two cities/ Delhi, Meerut and does not let you down in a single scene/ moment.
Reason 4: Performances:  Each and every actor is perfectly cast and this includes all the friends and all the neighbors. Sheeba Chadha has two scenes but is as effective in her silence as with her words. Sanya Malhotra as Rene is confident and sparkling, Sureskha Sikri as the grandmother is a riot. Gajraj Rao with his variety of expressions is an actor to watch out for and Ayushman Khurana once again steals your heart, he is particularly special when he is awkward!
As the pregnant mother who is also a wife/ daughter-in-law, mother of grown-up boys, Neena Gupta exceptional and as convincing whether she is happy/ sad/ angry/ seductive. The truth is you cannot look at anything else when Neena is on screen!!
Reason 5: The Director: Amit Sharma takes you through school fights, office culture, middle-class homes, and stylish parties. He treats you to cafes, street food,  makes you stop by the cozy kitchen, breathes beneath a starlit sky on a terrace never forgetting to include nature – lush trees, meadows or a flight of a pigeon.
Here is a director who can make you laugh without being comic and cry without a tragedy.  Badhai Ho is about relationships, about sensitivity, about humanity. Where were you Amit Sharma all these years??
I rate Badhai Ho with 5 stars.
Bhawana Somaaaya