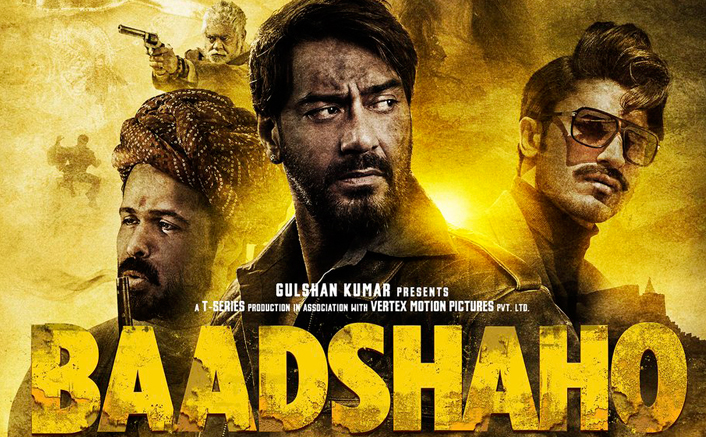 Date: 01 September 2017
Director: Milan Lutharia
Cast: Ajay Devgn, Ileana D'Cruz, Emraan Hashmi, Esha Gupta, Sanjai Mishra and Vidyut Jammwal
Ratings: 1.5 stars 
Set in the emergency era of 1975 Baadshaho follows a group of Rajasthani thugs who loot the gold confiscated from Rani Geetanjali during the Emergency and transport it to Delhi.
A two year leap, bombing of a palace in Jaipur and the arrest of Rani Geetanjali now confined to a dark cell, we are introduced to super hero  Bhawani/ Ajay Devgn who is unaffected by any calamity in the world including gas bombs and is, therefore, the perfect candidate to safeguard the queen..
If army officer Viddyut Jammwal is entrusted with stealing the gold recovered from Geetanjali's palace and safely transports it to Delhi, Ajay Devgan is appointed to make sure that gold never reaches Delhi.
The positives of the film are the compelling action sequences from Ajay Devgan and Vidyut Jamwal and the intrigue surrounding the assembled wealth. The negatives, unfortunately, outweigh the positives. Baadshaho has poor writing/ editing, blaring music resulting in an insipid viewing.
It's difficult to believe that a filmmaker who gave us Kachche Dhaage in 1999 and Once Upon A Time in Mumbai in 2010 can serve us Badshao in 2017.  A filmmaker of Milan Lutharia caliber must know that firing guns, bare chest bodies, raunchy numbers don't make movies.
Movies call for a story and the sincerest performances in this case Sanjay Mishra and Emran Hashmi cannot replace content in a film.
I rate Baadshaho with 1.5 stars.