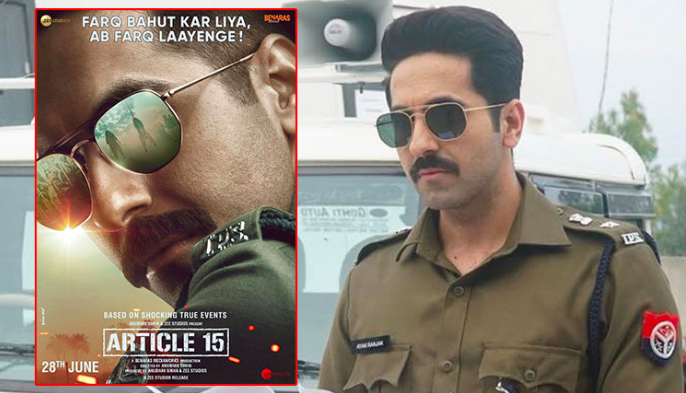 Bravo Sinha-Khurana
Film: Article 15
Date: 28 June 2019
Director: Anubhav Sinha
Cast: Ayushman Khurana, Isha Talvar, Kumud Mishra, Sayani Gupta, Manoj Pahwa
It is raining heavily and the roofs are leaking but rather than grumble about the fierce wind, they are huddled under one roof, singing. The lyrics of their song go something like this…
The homes of the rich have sprawling rooms and chandeliers…The homes of the poor are devoid of walls or ceiling…
The rich are treated to a banquet for every meal…The poor are a fortune to eat roti with chutney…
The children of the rich attend school and tuitions… The children of the poor work for daily wages…
Based on Article 15 of the Indian Constitution that prohibits discriminations on grounds of religion, race, caste, sex or place of birth,Anubhav Sinha's latest offering is the story of three such girls who go missing at work and even though a complaint is filed at the police station by their family no FIR is registered!
Inspired from true-life incidents of Badayun gang rape/ 2014 and Una flogging incident/ 2016 writer Gaurav Solanki with Sinha present a harsh, cruel slice of life that is bound to shake you up!
If Sinha's 2018 released Mulk was hard-hitting Article 15 through the eyes of a police officer/ Ayushman Khurana is spine chilling. Posted in a small town in Uttar Pradesh because he dared to respond 'cool' to his senior, Khurana is punished to serve in a deserted place and uses the quietude to reflect on life and relationships. Slowly, as he is overwhelmed by the social injustices, Khurana's communication with girlfriend/ Isha Talvar changes from discussing scenic beauty to humanity.
Starkly photographed and crisply edited, the film is130 minutes peppered with diverse relationships and more important has a gripping beginning-middle and end. In my opinion, there are 4 reasons for watching Article 15.
1. The writing: Diligently researched and tautly scripted the narrative peels layers of conditioning and holds the audience as guilty as the accused.
2. The treatment: If Sinha was effective with Mulk he is up-close without buffers or filters in Article 15. So many scenes stay with you long after the film is over. The police station exterior layered with bricks to encounter the overflowing filth. The scene where Ayushman Khurana leads his team into the swamp filled with leeches and the stomach-churning moment when the sewage cleaner dives into the mess with a bucket and comes up breathless to do it again and again!!
3. The Performances: This is not a film about a hero/ supporting cast or about positive/ negative characters, rather it is a film about many shades of humanity portrayed by Ayshman Khuran , Ishita Talvar, Sayani Gupta, Manoj Pahwa, and Kumud Mishra.
4. The Message: Baba Ambedkar wrote the constitution more than 70 years ago but we let him down. It is still not late if we can support the tag line on the film poster 'Farq bohat kar liya ab farq layenge'.
Bravo Anubhav Sinha and proud of you Ayushman Khurana for your choices. I rate Article 15 with 4 stars.
Watch the review: ttps://www.facebook.com/133710429085/posts/10156726179384086/
Bhawana Somaaya