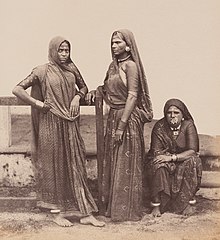 Of the many theories floating about the community, one of them is that the Lohanas are a warrior class and believed to be the descendants of Raja Ram, who was also known as Lord Raghu and his descendants called Raghuvanshis. So another description of Lohanas is Raghuvanshis. Lord Ram had two sons; Luv and Kush. The descendants of Luv were known as Luvanas and from that evolved Lohanas which the youngsters are shortening it to ' Luees'!
The warrior Lohanas or Kshatriyas reveal traces in places like Kabul and even Kandahar which can be split in to Kanda ( onions or dungri) and ahar (eating) because unlike the Jains the Lohanas are associated with dungri/onion eating!
Another theory is that Lohanas migrated from the North to what is now known as the Multan region of Pakistan where a place called Lahorghat existed. Lohanas were the protectors of Lahorghat and therefore named Lahoranas which slowly turned into Lohanas and which is why Lohanas look distinctively different from the other Gujaratis. To begin with they are fairer skinned; the men have more hair on their body and are broad shouldered. Their speech is more aggressive reflecting the warrior blood and the most important, the community is the biggest carriers of a blood disorder called Thelesimia which no other Gujarati community has any trace of and there is story behind it.
According to the legend Alexander the Great also known as Sikender was invading and conquering the world but by the time he reached the Indian shores he died in the process and many of his soldiers never returned to Greece and settled in the northern region. There must have been interactions between Lohanas and the Greeks which is probably the reason why Greeks are even bigger carriers of Thelesimia and Lohanas picked up this strain from them. This may also be the reason why the physical features of many Lohanas resemble the Greeks! The other Gujaratis do not have this blood disorder.
Old residents of Multan region of Pakistan reveal that there re many who remember being Lohanas earlier but are now converted to Muslims given that Pakistan is a Islamic state and it would be isolating to live there as a Lohana Hindu community. In the same way the Ismailis/ khojas are converts from Lohanas which is why there is a striking similarity in the customs and ceremonies of the two communities including their surnames like Somani, Lakhani etc amongst Ismailis.
There is a possible theory that a number of Hindu Punjabis were Raghuvanshis earlier and hold surnames like Sachdeva and Thakral similar to Lohana surnames. It is believed that some of the Rahuvanshi settled in the present day Punjab instead of Multan, in fact story has it Guru Nanak Singh was a Lohana and his original surname was Chandarana. He started a new Sikh army by calling for the eldest son of every family to join him in the fight against insurgencies from the Muslims.
After the Indian partition, many Lohanas moved to nearby Saurastra and Kutch regions of today's Gujarat and India and since then considered to be a nomadic community. After settling in Saurastra in the 18th century, many travelled by sea and settled in East Africa and South Africa, this was in late 1800s and early 1900s. A lot of them settled in Africa moved to UK, US, Europe and Australia and some young Lohanas from Gujarat and Europe to Africa.
Some of the notable Lohanas in the past include Saint Jalaram Bapa who was a Thakker, Guru Nanak who was a Chandarana, Yogi Maharaj, the founder of Swaminaryen movement, Mohamed Ali Zina, the first president of Pakistan, who belonged to a Thaker family in Gondal but converted. Then Nanji Kalidas Mehta, one of the great business entrepreneurs and philanthropists, Muljibhai Madhavani, a highly successful business entrepreneur and founder of the Madhvani Group in Uganda. Of course the most famous royalty amongst Lohanas was Dada Jasraj. Many Lohanas still revere him during their religious ceremonies.
The modern day Lohanas are made up of success stories but lack the community spirit visible among other communities like the Patels. The Lohanas are moving in to high levels of professionals, politics are seriously involved in philanthropy but not in helping their own community.
Waiting to hear from you Subhash Thakrar and Hasu Maanek…
@bhawanasomaaya