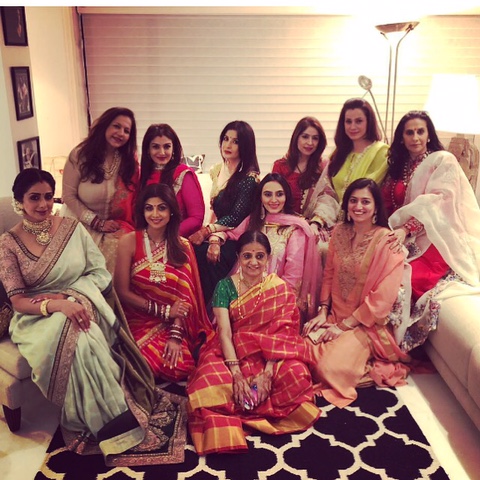 It was a normal day until I got a message from Sunita Kapoor inviting me to celebrate Karva Chauth. My first reaction was what will I do there and then I got a supporting message which goes as follows:
Yes, I am fasting and I'm unapologetic about it. I am a believer in moon or stars and nor am I evolved enough to understand the mysteries of nature or so naive to blindly follow tradition….
Then why I am observing Karva Chauth, I do it because this one person in my life means more than anyone else and it is my way of thanking the heavens for this boon.
Yes I am fasting because I value this relationship higher than my need for water or food. It reminds us that this partnership is above everything else. I know this is not about my proof of love for my husband but it gives me the joy of celebrating his presence in my life and I am not going to shy away from it.
I dress up because I want to and there is joy in bringing out your forgotten jewellery! This day, every woman can be a bride again. Married life reboots itself! And what about the story your mother-in-law narrated to you as a Katha? Well, legend combines with life and there is no harm bowing to tradition even if it sometimes defies logic…A mystery, a scope for some miracle, a little sweetness…can not hurt.
Does my husband do the same thing for me? Well he has tried his best to dissuade me from staying hungry and when that did not help, he has offered to fast with me but I cannot handle another irritable person in the family that day. It is my day of pampering and I'm not going to share the spotlight.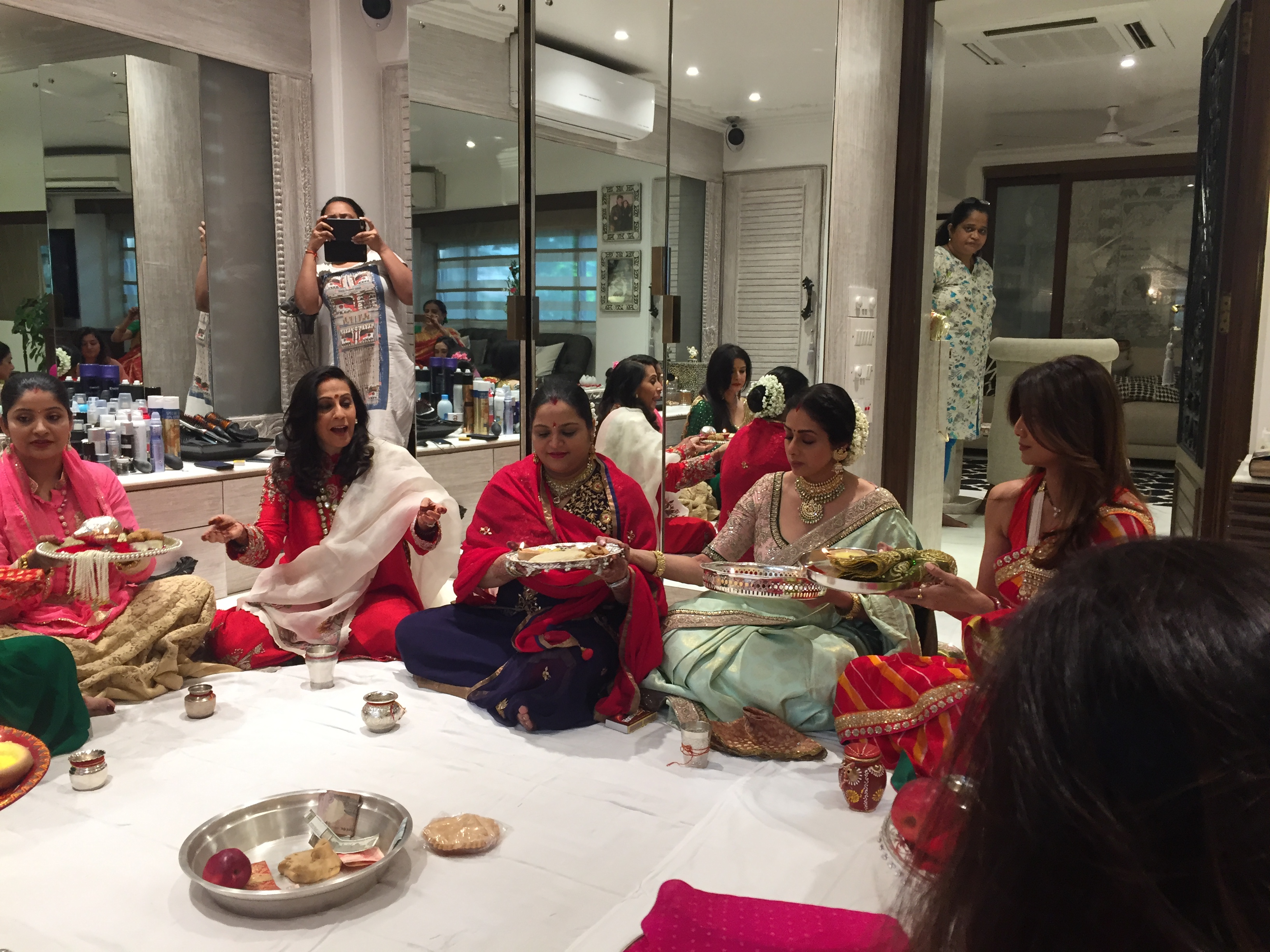 Do I resent buying a gift for my mother-in-law, on the contrary, I cannot thank her enough for gifting me her prized possession, her son because now that I have my own son, I discover it is not an easy task and I hope, my son grows up like his father! Do I crib and grumble about thirst and hunger as the day goes by, yes, all women do and it is great fun to do it together so try it next time and trust me it is cathartic.
I accept at the end of the day it is tiresome to wait for the moon to emerge in the sky but we do it just one day in a year, one day in a year when we abide by nature and it is because of this eternal wait we value phrases like Eid ka chaand!!
On Sunday I reached Anil Kapoor's home at 4:30 and was welcomed by women dressed to the hilt. At the decided time the women squatted on the carpet in a large circle with their puja thaalis in front of them. When the music played they rotated the thaalis from one hand to another. The process continued till the song and the legendary story were over. Post puja the women are expected to seek the blessings of their mothers-in law, the previous evening the mother-in-law sends the daughter-in-law sarrgi and on the puja day the daughter-in-law presents a gift to the mother-in-law.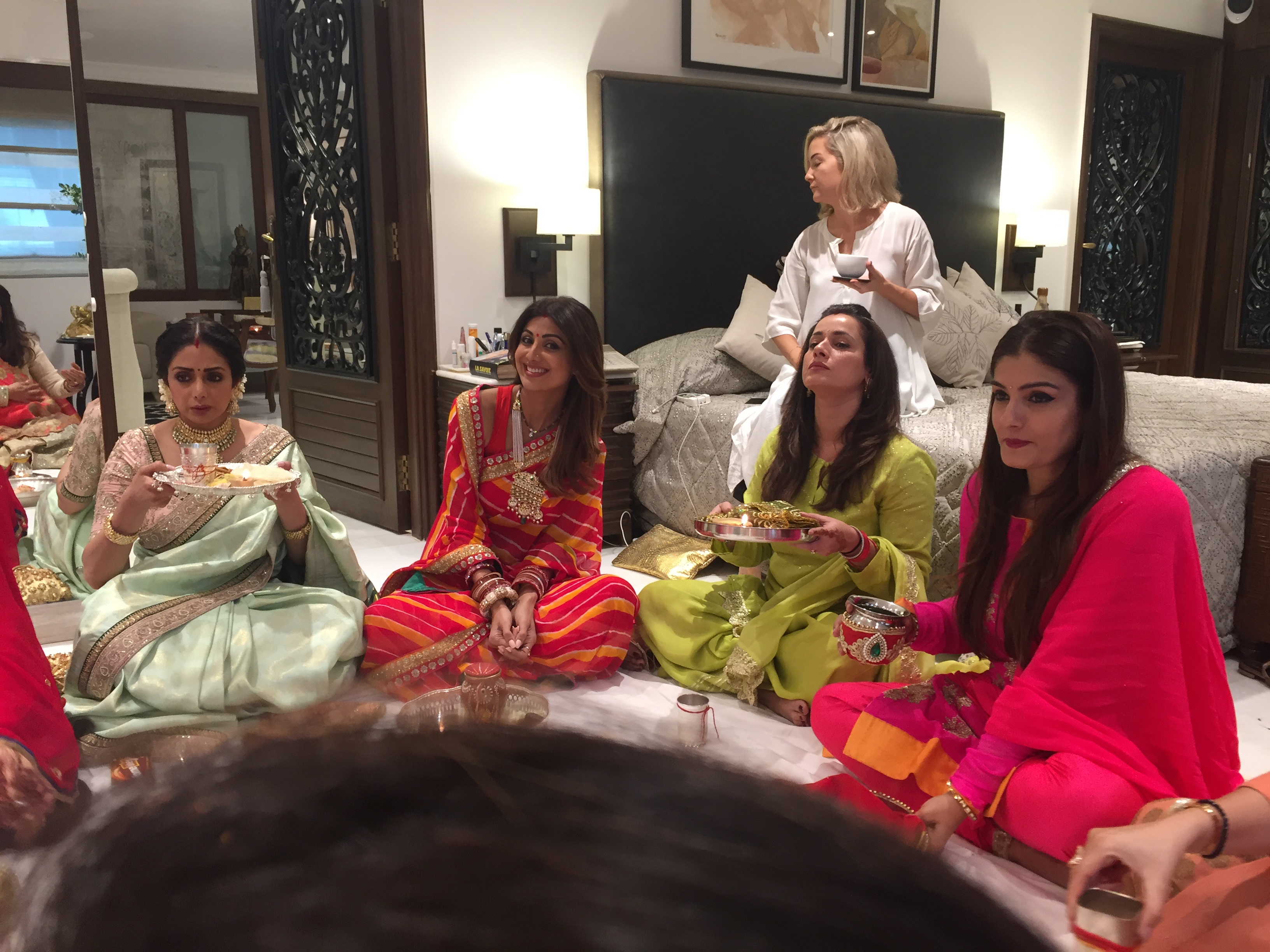 If the mother-in-law gives permission, the daughter-in-law is allowed her first single drink of the day (water/ coconut water/ lassi/ tea/ coffee/ juice) so all the women quickly phoned their ma-in-law and sought permission for lassi to get them going till evening.
From 5 to 9 pm is a long journey waiting for the moon and the women occupy themselves either play cards or being entertained by their husbands. Sreedivi was joining Boney Kapoor in Chennai and Raveena Tandon had house guests but the others Neelam, Shilpa, Bhavna Pandey waited and made themselves comfortable. The men (Anil, Sanjay Kapoor, Raj Kundra, David Dhawa, Chunky Pandey, SanjaySuri) soon joined the party and collectively waited for the moon.
The moon was nowhere in sight because of heavy showers but then somebody called from Amritsar, Delhi to say Chand nikal aaya and the women broke their fast…. Participating in Karva Chauth at super hostess Sunita Kapoor I must say was a delightful experience!
@bhawanasomaaya